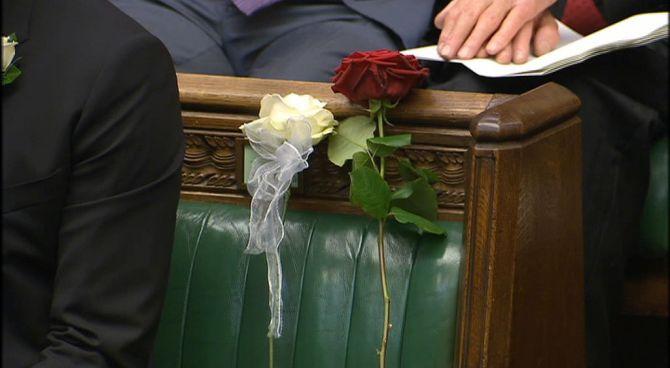 IMAGE: A white and red rose are placed on Member of Parliament Jo Cox's empty seat in the House of Commons, in London. Photograph: House of Commons/Twitter
Tearful British MPs paid glowing tributes to their slain colleague Jo Cox in the House of Commons on Monday at a special session to honour the "passionate and progressive" Labour politician who was murdered by a
far-right activist.
Cox,41, had bled to death in hospital after she was brutally shot and stabbed while holding her regular meeting with constituents of Batley and Spen in West Yorkshire last Thursday.
The Speaker of the House of Commons led the tributes to the "caring, eloquent, principled and wise" politician and mother-of-two.
"An attack like this strikes not only at an individual, but at our freedom. That is why we assemble here, both to honour Jo and to redouble our dedication to democracy," Speaker Jon Bercow said soon after sombre and tearful MPs filed into the Commons.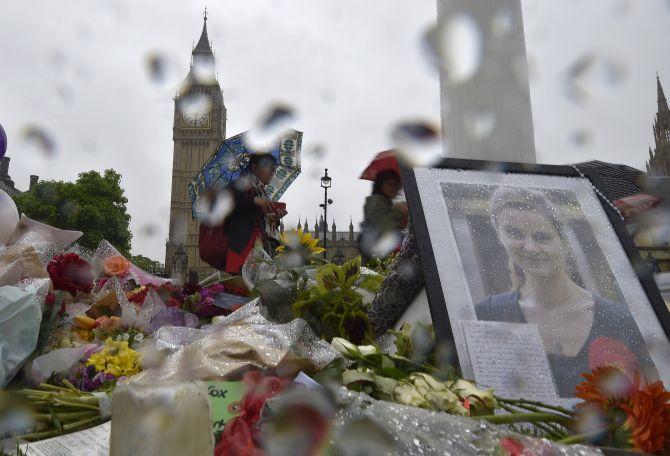 IMAGE: People view tributes in memory of murdered Labour Party MP Jo Cox at Parliament Square in London, Britain. Photograph: Toby Melville/Reuters
Prime Minister David Cameron described Cox as an "extraordinary colleague and friend", who was a humanitarian "to her core" who brought out "the best" in people.
He said, "She was a voice of compassion, whose boundless energy lit up the lives of all who knew her and saved the lives of many she never met. We pay tribute to a loving, determined, passionate and progressive politician, who epitomised the best of humanity and proved so often the power of politics to make the world a better place".
In a unique gesture of cross-party solidarity, Cameron had given up his right to speak first to allow Opposition Labour's Jeremy Corbyn to lead the official motion on the recall of Parliament.
Corbyn said the United Kingdom had been "united in grief" over the "horrific act".
"We have lost one of our own and society as a whole has lost one of our very best...The horrific act that took her from us was an attack on democracy and our whole country has been shocked and saddened by it," he said.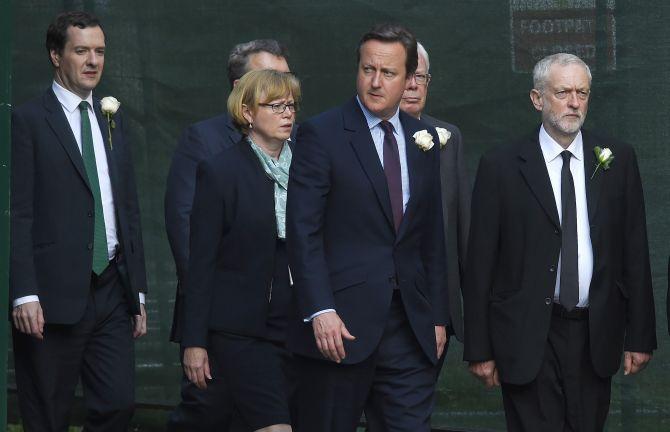 IMAGE: Britain's Prime Minister David Cameron (2nd R) walks from Parliament to St Margaret's Church with Jeremy Corbyn (R) the leader of the opposition Labour Party for a service of rememberance for Labour MP Jo Cox in Westminster, London. Photograph: Toby Melville/Reuters
Parliament had been in recess to allow MPs to concentrate on campaigning in the final days running up to the European Union referendum on Thursday.
However, the rare decision to recall MPs was taken to allow colleagues to pay their tributes to Cox, who's seat in the House of Commons had a white and red rose.
All members of the Commons across party lines also wore white roses in their lapels in memory of Cox.
Her husband Brendan and family members watched from the gallery as the packed chamber praised the achievements of Cox who would have celebrated her 42nd birthday on Wednesday. A simultaneous special session was also held in the House of Lords.