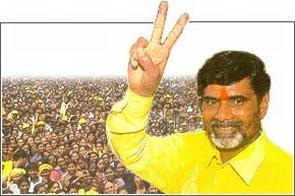 Telugu Desam Party chief Chandrababu Naidu is keeping everyone guessing about whether he plans to join hands with the Bharatiya Janata Party-led National Democratic Alliance for the forthcoming parliamentary polls.
According to sources in the TDP, the party is unlikely to join the NDA before the Lok Sabha polls, as Naidu does not want to anatgonise the leaders of the Third Front.
During his recent visit to Delhi, Naidu met senior Janata Dal-United leader Sharad Yadav, Communist Party of India-Marxist Prakash Karat and Communist Party of India leader A B Bardhan.
The former Andhra Pradesh chief minister believes that a Third Front government, formed by these leaders, may take over power at the Centre. This makes him understandably reluctant to make any commitment to the NDA.
Naidu is currently focusing on the fight for a united Andhra Pradesh. His political standing has improved marginally in the Seema-Andhra region following the decision by the Congress to divide Andhra Pradesh.
Naidu does not want to squander away the hard-earned goodwill by formally joining the NDA, as the BJP is a very vocal supporter of the bifurcation of the state. Right now, he has nothing to gain politically by joining the alliance headed by the saffron party.
While the BJP is going all out to promote its prime ministerial candidate Narendra Modi, Naidu is not sure whether the Gujarat chief minister's charisma will work in Andhra Pradesh.
The TDP chief believes that the issue of Andhra's impending division will resonate more with voters than Modi's projection, and he wants to remain loyal to the movement against the creation of Telangana.
The Congress has slipped to the third position in Seema-Andhra region, believes Naidu, and his biggest political foe in the state is YSR Congress chief Jagan Mohan Reddy.
But Jagan's charm isn't working so well with the people of Andhra now that he is behind bars, and Naidu is taking this as a positive sign.
In case Naidu's planned alliance with the Third Front fails to work out, the TDP chief might veer towards the NDA, if the alliance does well in the Lok Sabha polls.