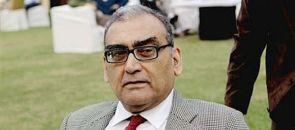 Indians ought to be all Indian nationalists first and those talking about Hindu, Muslim, Sikh or Christian nationalisms are really anti-national, Press Council of India Chairman, Justice (retd) Markandey Katju said in Nagpur on Friday.
He also requested the media and citizens to encourage Indian nationalism.
"I don't agree with the remarks by Hindu nationalists as (theirs) is divisive talk and such divisive policies can't run the nation," he said in comments apparently aimed at Gujarat Chief Minister Narendra Modi, although he mentioned no names.
He was speaking about 'The Media's Role In Promoting Secularism' at an 'Excellence in Journalism' award function organised by Marathi daily 'Lokmat'.
Media and intellectuals must fight divisive tendencies like religion, caste, region, language and race, Katju said, adding that whatever united Indians would be the path to progress.
All Indians were first class citizens of the country and there cannot be any discrimination between communities, he said.
"Muslims have been wrongly painted. Whenever a bomb blast occurs, within no time TV channels start saying that an email or an SMS from some Muslim organisation has claimed responsibility, thus demonising the entire Muslim community. Is this responsible behaviour?" he asked.
"The truth is that 99 per cent people of all communities, be it Hindu, Muslim, Sikh or Christian, are good citizens.
"But often an attempt is made to depict all Muslims as terrorists," he said.
When the Babri Masjid was demolished, a section of the media had become "kar sewaks", instead of attacking communalism, Katju alleged.
He did not mince words in lashing out at superstitions, astrology and other blind beliefs, saying Indian people have a feudal mentality which the media should not promote.
The truth is that most Indians are still extremely backward and steeped in casteism or communalism, which is evident during elections when most people vote on the basis of caste or religion, he said.