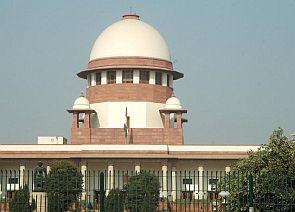 The Supreme Court has expressed its anguish at the "bureaucratic attitude" that has left the functioning of several tribunals including the National Green Tribunal and Law Commission in a "pathetic" state of affairs.
"It is pathetic. One does not know what forces the judge to accept such assignments. It is most unfortunate that this court has to interfere to provide infrastructure and manpower," a bench comprising justices G S Singhvi and S J Mukhopadhaya said.
"What is this attitude in the bureaucracy? We are aghast that even the Press Council of India does not have its own office. We are aghast that the Law Commission is situated somewhere in Connaught Place. What is the rental? It is Rs 1 crore. The library of the Law Commission is in the building of Indian Law Institute in front of the Supreme Court," it said.
The remarks were made during the hearing of the issue relating to inadequate infrastructure and accommodation for the members (both judicial and expert) of the NGT bench at Kolkata.
The judges warned the West Bengal government that failure to provide good infrastructure and accommodation to members would compel them to pass an order for shifting the NGT bench from Kolkata to Ranchi or Guwahati.

"You have to come up with good infrastructure and accommodation. For the last one year we have been telling. Otherwise, we will transfer the bench from Kolkata," the bench told West Bengal government's Additional Chief Secretary (Environment) Trilochan Singh, who was present in the courtroom.
The bench asked him to discuss the matter with senior advocate Mukul Rohatgi, who was appearing for the state government, and make effort for the bench to become functional.
It posted the matter for hearing on August 2 when the West Bengal government would look into the suggestion of providing accommodation to the members at New Town locality in Kolkata.

Further, the bench directed that the Pune bench of the NGT be made operational from August 1