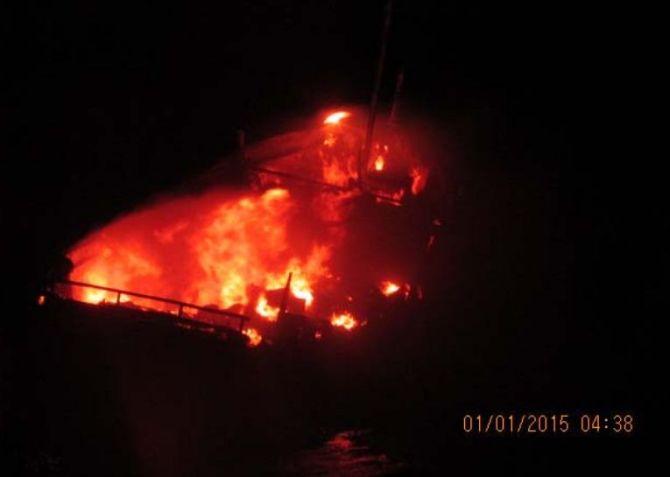 Amid questions over the 'boat' operation, Defence Minister Manohar Parrikar on Monday said "circumstantial evidence" indicated that the occupants of the vessel were "suspected or possible terrorists" and that they were in touch with Pakistani maritime officials and army.
He said the government will release all analysis on the suspected Pakistani boat in 3-4 days.
Parrikar dismissed the contention that the four people on board the boat, which "exploded" and sank in the Arabian Sea in the intervening night of December 31 and January 1 during an Indian Coast Guard operation, were smugglers.
The minister underlined that the suicidal act of setting the boat on fire by the men on board the boat showed that they were "committed" and indicated suspected terror link.
He told reporters that he would classify the occupants of the boat as "suspected or possible terrorists" since they had committed suicide after being intercepted.
They were in touch with Pakistani maritime officials, "army and international contacts", he added.
Replying to questions by reporters about veracity of this assessment, Parrikar said, "...circumstantial evidence indicates what I am saying."
His remarks came as questions were being raised on the veracity of claims that a 2008 Mumbai attack-style operation had been foiled. There are also reports claiming that the boat was involved in smuggling.
The boat was neither in a fishing area nor on any busy route preferred by smugglers to sneak in, Parrikar said, adding that their actions indicate that they were there for "some other kind of activity". At the same time, he said, "We are not sure what is that other kind".
He said intercepted satellite communication showed they were interacting about passing of cargo and talking about families of some of the boat members.
"Smugglers don't keep in touch with Pakistani maritime agency, or their army or international contacts," he said.
"A normal boat, even carrying some drugs, can throw away their drugs and surrender. No one is going to be killing himself unless you are motivated enough to do that".
The defence minister said the actions of the boat men backs what he has said.
"(I am) Not speculating that it had explosives but it had some activity in mind that does not fit the description of smuggling boat. Which smuggler would commit suicide? That much I can say," Parrikar said.
Congress has asked the government to come clean on the matter leading to a slugfest with the ruling BJP which accused the former of providing "ammunition to Pakistan" and speaking their language besides playing "petty politics" on terror.
Parrikar said, "There are speculations but I don't intend to be part of speculations except saying one very important aspect that the location (where the boat was found) is not a normal route for fishing boat".
He said that there were no other boats in the vicinity and hence it was not a fishing area.
Parrikar added that even smugglers of gold, drugs and other contraband normally take a busy route since it is easy to hide and mingle with other boats.
The defence minister said the boat was in an isolated location when spotted by surveillance aircraft which tracked it for about 12 hours.
"It does not indicate any type of smuggling activity but some other kind of activity. We are not sure what is that other kind," he said.
The defence ministry, in a press release, had said that the occupants went down from the deck and set the boat on fire which led to its sinking.
The minister complimented the Coast Guard saying they did the right job at the right time.
"They got surveillance done on the boat for almost 12-14 hours, intercepted it as soon as possible and stopped it after a chase," he said.
"It was dark and it was laden with explosives... which appears to be at least partly correct. It could have induced injuries and damage to coast guard," he said.
Asked about the presence of a second boat, he said it was in Pakistani Exclusive Economic Zone.
Parrikar said intelligence inputs were very clear even about the exact position of the boat.
Meanwhile, asked about ceasefire violations, he said there is an attempt to push "unwanted elements" across the border and the firing is a cover for them.
He said India is trying to ensure that terrorism does not grow or penetrate in its territory.
Image: The boat sank after being intercepted near the India-Pakistan maritime boundary