In the years to come, India's space assets will play a much bigger role if and when hostilities break out on our borders, says Pallava Bagla.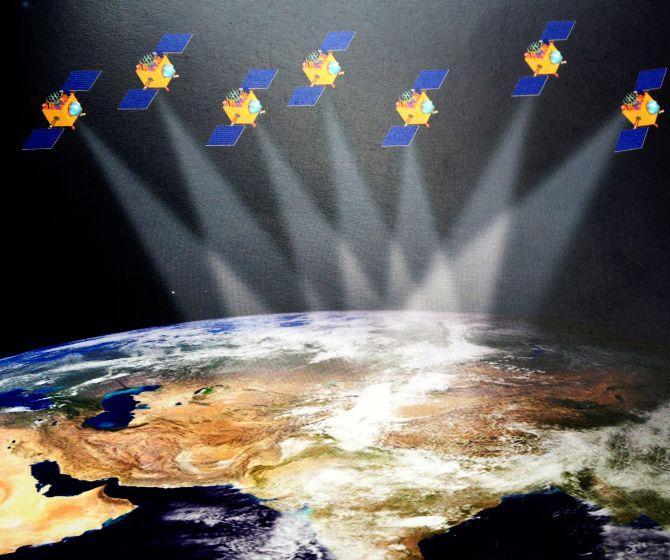 The precision 'surgical strikes' that Indian soldiers carried out on terrorist camps across the Line of Control were ably assisted and facilitated by at least half a dozen satellites.
India is fast developing a huge capability called 'C4ISR' or 'command, control, communications, computers, intelligence, surveillance, and reconnaissance'.
The country has already put in place an Aerospace Command and experts who understand the nature of the 'surgical strikes' acknowledge that this new tri-services body played a key role in planning and execution of the midnight attacks.
The Indian Space Research Organisation evidently does not fight wars and is purely a civilian agency, but the capabilities it imparts to the nation are among the very best in world.
From watching over the terrorist infrastructure in Pakistan to providing two-way communication in desolate places to giving out accurate navigation signals, ISRO has built a formidable infrastructure that helps India protect its borders in day or night.
Not many Indians know of these deep capabilities that lie hidden within the portals of the space agency. But silently and steadily, the 17,000 strong work force of the ISRO contributes to keeping 1.2 billion Indians secure.
ISRO provides the necessary platforms, and then it is the user agencies that utilise its downstream products which means ISRO does not directly participate in the conflict.
K Kasturirangan, former chairman of ISRO, says "The space agency has a formidable suit of technologies and all are suitably deployed with each user agency utilising the assets to their best advantage."
So a high resolution imaging satellite can help in urban planning while also monitoring terrorist camps across the border.
Kasturirangan says a satellite image does not distinguish between friend and foe; that interpretation rests with the users.
Nobody doubts that ISRO's eyes and ears facilitated 'surgical strike' in Pakistan-occupied Kashmir at the staging points for terrorists.
In the years to come, India's space assets will play a much bigger role if and when hostilities break out on our borders.
Kiran Kumar, chairman of ISRO, says, "The Indian space agency will not be found lacking in helping secure India's national interests now and in future."
Today, India has 33 satellites in orbit around the earth and one in the Martian orbit. These include 12 communications satellites; 7 navigation satellites; 10 earth observation satellites and 4 weather monitoring satellites. This is one of the largest constellation of satellites in the Asia-Pacific region. Each is tailor-made for a specific purpose and each when needed helps protect national interests.
India has some of the sharpest eyes in the sky and to prepare for the 'surgical strikes' India's best bird in the sky, the Cartosat 2-series satellite launched as recently as June 22 played a key role.
From its 526-km perch, Cartosat 2 can peer at every object in Pakistan and can easily count the number of cars parked in
the grand mansion of Pakistani Prime Minister Nawaz Sharif.
With its almost 0.65-m resolution, as it rotates the earth every 90 minutes, this formidable spy in the sky can count every tank, truck and fighter aircraft parked anywhere in Pakistan or for that matter anywhere India desires.
Speaking about the capabilities of this ultra-sharp satellite, Kumar said: "The Cartosat 2 series has a unique capability of capturing a 1-minute video, which despite its enormous speed of 37 km a second, is able to focus at a single point for a minute."
In addition, there were three other earth imaging satellites Cartosat-1, Cartosat-2 and Resourcesat-2 that provide top class imagery during day time. Going further, ISRO seeks to develop satellites that have a resolution of 25 cm in the very near future.
In contrast, Pakistan has no such capability as its space programme has hardly lifted off.
Former ISRO chairman G Madhavan Nair says even China does not have such high resolution satellites, the best China has is about 5-m resolution.
Nair says "India invested heavily in space imaging technology and is now reaping the benefits."
India also flies some satellites that have day and night viewing capabilities called 'synthetic aperture radar satellites'. There are two in orbit, the RISAT-1 and RISAT-2.
Nothing can hide from these mean birds as they can see through cloud cover and are not blinded at night. Especially RISAT-2, which is among the best in its class and its revisit time is relatively short.
Assessing damage on the camps that harboured the terrorists would be relatively easy using the radar satellites. It is not that these satellites do not help civilian activities, radar satellites help monitor floods and have even been deployed to search for crashed planes and helicopters.
India has put in place a regional satellite navigation system called NAVIC as recently as April 28 -- the last of the seven satellites was launched -- and Prime Minister Narendra Modi spoke on its huge benefits.
This system gives better than 20-m accuracy for navigation signals akin to the American Global Positioning System in an envelope which extends about 1,500 km from the border on all sides.
The signals are being beamed down 24x7 all the year around. Only America and Russia have similar capability over the South Asian region, China is still putting in place its satellite navigation system.
The restricted signal which is available to the Indian armed forces is supposed to be even more accurate than the American GPS in the Indian region. Experts say it is unlikely that the Indian special forces used the hand-held devices from NAVIC to guide them to the terrorist camps as the devices are still being fine-tuned.
In the event of an all-out war, signals from NAVIC will undoubtedly help India target its missiles to unleash unprecedented punishment on the enemy. Since the satellite navigation system is in India's control there can never be any fear of someone switching the constellation off.
There is another 2,000 kg-plus bird that points towards the Indian region all day and night, and provides unprecedented capability to India's armed forces -- the GSAT-6. This unique satellite has multi-media capability as it can stream video in both directions. It has the largest antennae which is 6 m in diameter. This is one unique satellite which will play a crucial role in the network centric warfare of the 21st century.
Using a hand-held device, individual soldiers can connect and will be able to transmit live pictures of what they can see from their helmet mounted cameras even as they engage in combat. Launched last year the users are still developing the handheld devices that can be made portable and compatible with this capability. Very soon this satellites twin GSAT-6 A may be flown which will have even more powerful capabilities.
Nair says, "The government and ISRO should expedite development of GSAT-6 A to have special capabilities that the special forces need."
If one recalls in 2011, it was shown that President Barrack Obama monitored live feeds of the surgical strike the US carried out as part of Operation Geronimo to eliminate Osama bin Laden in Pakistan. India's GAST-6 and GSAT 6 A both will in principle be able to help providing live signals from the remotest of remote places in India's neighbourhood.
Sources in India's Aerospace Command confirm that they did have access to a live feed that was put in place using typical Indian 'jugaad' but with these satellites such capabilities will become common place.
Nair says right now India relies heavily on using Thuraya handsets for satellite telephony but he hopes very soon the Defence Research and Development Organisation will be able to deliver Indian handsets that are compatible with the country's GSAT-6 satellite.
In fact, Nair insists that in the upcoming GSAT 6-A, satellite telephony should be made the bigger component.
While understandably much of the resources are focused on land since India has hostile neighbours both on its western and eastern fronts. ISRO has not forgotten the deep blue oceans that surround India and they need to be protected as well.
On a specific demand by the Indian Navy, the Indian space scientists have already deployed a satellite the Navy calls 'Rukmini'. This is a dedicated communications satellite which helps the Indian Navy talk to its ships when they are beyond the visual range, in a secure fashion.
In coming years, ISRO will also deliver a dedicated satellite made for the Indian Air Force.
The author is a writer on science subjects for the Press Trust of India.