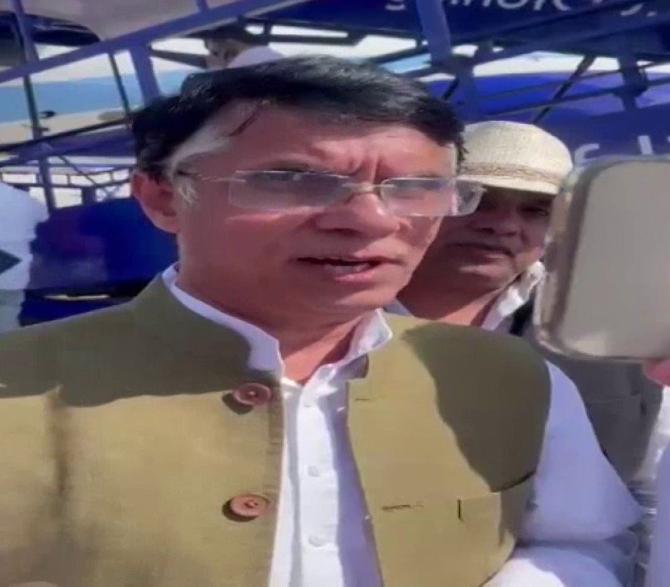 '
Congress spokesperson Supriya Shrinate reacts to Congress leader Pawan Khera's arrest after he was asked to get off an Indigo flight to Raipur to attend the Congress plenary session on Thursday.
On Pawan Khera's arrest
Mr Pawan Khera and all of us were in the flight on our way to Raipur for our (Congress) plenary session. He was detained and then later arrested by the Assam police and this is thanks to some statement -- which was a slip of tongue -- that he had made.
He was told there was some issue with his baggage and when he got down he was told he has been detained.
I can point out 10 instances when Mr Modi has used choicest of words against us (our leaders). But they are going on arresting our people to disrupt our session, but this is not going to help them.
The Assam police has arrested him (Khera) under various charges.
They (the Modi government) are trying to silence people who speak against this government, who speak with force and speak with conviction and want to speak the truth.
On taking the matter to the Supreme Court...
We have gone to the Supreme Court against Mr Khera's arrest and we do hope that India's highest court will safeguard civil liberties and safeguard the right of India's Opposition parties to ask tough questions of this government and the prime minister.
Prime minister koi chui mui thodi hi hai (the prime minister is not like a touch-me-not plant that must not be touched). He should be able to answer those questions.
On protesting on the tarmac...
Where else would we sit-in on a protest?
Big deal (if this was a security area and if they file a case against us). You are going to arrest one of our colleagues and we are supposed to not even protest? What a sillier thing to do (if at all it is done)!
Where do you think one should protest? Inside the plane? So that the plane can take off?
As told to Prasanna D Zore/Rediff.com