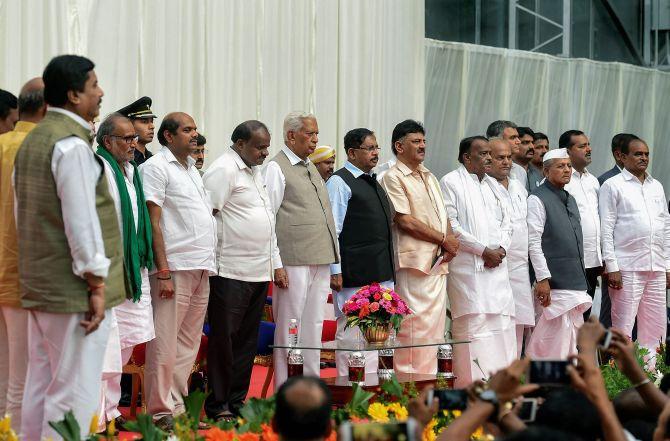 Ignoring the patch-up efforts by the leadership to end disquiet within Karnataka Congress over denial of ministerial berths, disgruntled legislators continued to mount pressure on the party to address their grievances.
According to party sources, some Congress MLAs are likely to meet on Friday under the leadership of senior legislator and former minister M B Patil to discuss their further course of action.
They are also likely to demand a second round of cabinet expansion soon.
Discontent within the Congress had surfaced soon after the cabinet expansion on June 6, with disgruntled MLAs holding separate meetings and expressing displeasure openly over being left out of the ministry.
Meanwhile, The first meeting of the coordination committee of the ruling JDS-Congress coalition in Karnataka on Thursday decided to appoint a drafting committee to prepare a Common Minimum Programme for governance that will have salient features of their election manifestos.
Along with a decision to make appointments to boards and corporations at the earliest, the committee also resolved to continue all major popular programmes initiated by the previous Congress government, headed by Siddaramaiah.
In an attempt to quell the brewing discontent, Patil, who has emerged as the leader of a group of dissident MLAs, was recently called to Delhi where he met Congress president Rahul Gandhi.
Also, All India Congress Committee secretaries Manickam Tagore and Vishnunath in the last two days have met several party MLAs who have been holding meetings under the leadership of another senior Congress leader and former minister H K Patil, and have heard their grievances.
Meanwhile, Congress General Secretary in-charge of Karnataka K C Venugopal, who is in the city today to attend Congress-Janata Dal-Secular coalition Coordination and Monitoring Committee meeting, met several upset MLAs, including H K Patil, Tanveer Sait and Shivalli among others, in an effort to pacify them.
Speaking to reporters after the meeting, H K Patil said, Venugopal has assured him a meeting with Rahul Gandhi.
Responding to a question, he said, "Whatever responsibility party gives me, recognising me as an honest worker of the party, I'm ready to take it up. I believe that our high command and people of the state know my ability."
Stating that the party has ignored providing a leadership to the Muslim community, Sait, a former minister after meeting Venugopal, expressed unhappiness over Congress giving ministership to other Muslim MLAs U T Khaderand Zameer Ahmed Khan and questioned their ability in providing leadership to the community.
He also alleged that Zameer Ahmed Khan, who joined Congress from JD-S ahead of the assembly polls had conspired against him during the state assembly elections.