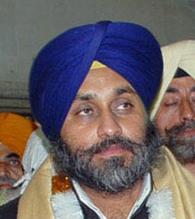 In the wake of alleged political violence in the state, the Punjab Congress on Friday demanded the resignation of Deputy Chief Minister Sukhbir Singh Badal, saying he was the main architect behind "political murders and growth of mafias".
"Sukhbir is a total failure as the state's home minister and he has no right to continue in power. Punjab is heading to a state of total anarchy as no rule of law exists in the state, and Chief Minister Parkash Singh Badal has become the prisoner of whims and fancies of his son," said Punjab Congress chief Partap Singh Bajwa.
Two people -- members of the ruling Shiromani Akali Dal and Opposition Congress -- were allegedly killed on Friday in a clash during an election rally at Chak Mishri Khan in Amritsar district.
Today's deaths follow Thursday's killing of a political activist, when over a dozen armed men opened fire at Congress-PPP election rally in Rampura Phull of Bathinda district.
Earlier, a Congress block president had been shot dead allegedly by Akali Dal activists in Tarn Taran district on May 8.
Bajwa condemned the incidents of violence and demanded an explanation from Sukhbir on the spate of "political killings" in the run-up to the block samiti and zilla parishad elections.
Sukhbir was maintaining a conspicuous silence over the violence and that proved Congress's allegations of his tacit support to criminal elements in his party, Bajwa said.
Sukhbir's wife Harsimrat Kaur is the Bathinda Member of Parliament, Bajwa said, adding that the deputy CM's silence became more serious when one considered that such violence had occurred in her constituency.
Lashing out at officers of the Punjab police for saying that these killings were an outcome of personal enmity without holding any investigations, Bajwa asked, "Even if it is personal enmity, are these murders justified?"
Bajwa also alleged that with the aid of police, Congress workers had been coerced into withdrawing their candidature from the panchayat elections.