Lord Hanuman has taken centre stage in poll-bound Karnataka as the Congress went on the defensive and on Thursday promised to construct and renovate Hanuman temples across the state, after outraged pro-Hindu outfits vented their anger over the party's promise to ban outfits like Bajrang Dal in its manifesto two days ago.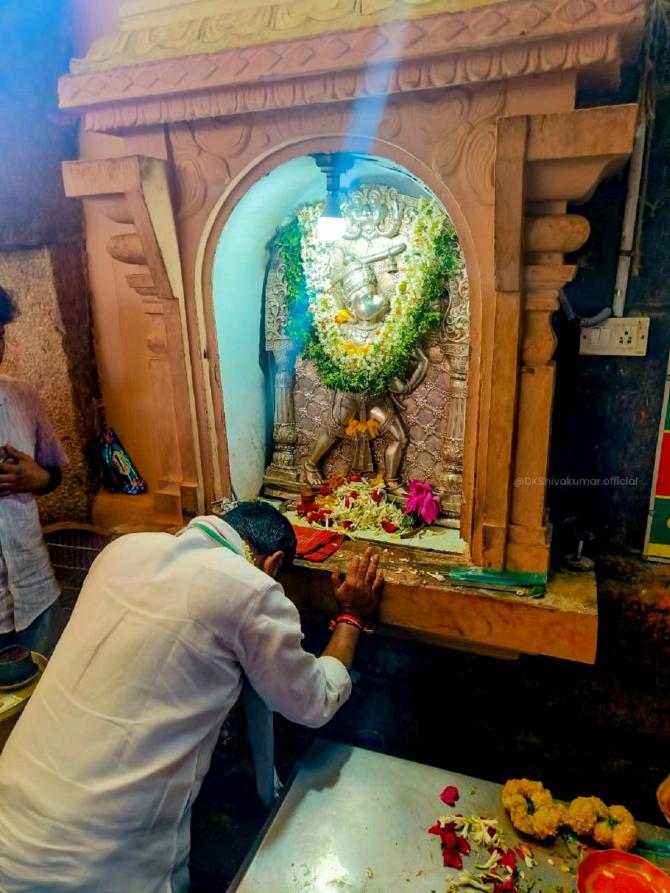 While Prime Minister Narendra Modi likened the promised ban on Bajrang Dal to locking up Hanuman and his devotees, former deputy chief minister KS Eshwarappa burnt the Congress manifesto, and Bajrang Dal activists tore the Congress document, hit it with slippers and held rallies in several parts of the state demonstrating their protest.
Hindutva outfits have also decided to chant Hanuman Chalisa, the 40 couplets authored by 16th Century saint-poet Goswami Tulsidas in Awadhi, a dialect of Hindi.
With emotions running high, Congress felt the heat.
All the issues around which the grand old party wanted to fight the May 10 assembly elections have been put on the backburner as party state president DK Shivakumar in damage control mode took up a temple run.
At Chamundi Hill in Mysuru after paying obeisance to Goddess Chamundeshwari, the Goddess of Mysuru, as well as Anjaneya, Shivakumar promised to either build more Hanuman temples or renovate the existing ones all over the state.
"The temples of Lord Ram's escort Anjaneya (Hanuman) are everywhere. We have constructed Anjaneya temples and we too are his devotees, especially we Kannadigas in this state where there are evidences to show that Anjaneya was born here," Shivakumar, who is contesting the election from Kanakapura constituency in Ramanagara, told reporters.
He added that the Congress was committed to strengthening Anjaneya temples and the ideals of Lord Hanuman.
"We are coming out with programmes. Congress will formulate special policies for the development of all the important Anjaneya temples especially those historic places associated with Anjaneya," the state Congress chief said.
"We will formulate policies and programmes named after Anjaneya in all the taluks of the state that will instil strength among youths to tread on the ideals of Hanuman," he added.
Swearing on Goddess Chamundeshwari, he said Congress would establish the Anjanadri Development Board.
Coming down heavily on Prime Minister Narendra Modi and the Bbharatiya Janata Party for politicising God, he sought to know how many Anjaneya temples did the BJP construct.
"My BJP friends including Prime Minister Narendra Modi are trying to use the name of God for political gain. They are playing with the emotions," Shivakumar alleged.
According to him, there are at least 25 Anjaneya temples between Bengaluru and Mysuru which were constructed by the first chief minister of the state Kengal Hanumanthaiah, who was a Congress leader.
"Did BJP construct just one temple? They are trying to encash it, which no one will listen. They are trying to mislead people, which will not happen. Congress will come to power. We will build all the temples that are linked to Rama and Anjaneya," Shivakumar said.
The monkey God became the talking point in the state after Prime Minister Narendra Modi in his public meeting in Hospet, the district headquarters town of the newly-carved district Vijayanagara, called the Congress's promise of banning Bajrang Dal an attempt to "lock up" Hanuman and his devotees who chant 'Jai Bajrangbali'.
He also made it a point to chant Jai Bajrangbali (victory to mighty Hanuman) in all the three public meetings on Wednesday.
Senior BJP leader Eshwarappa on Thursday burnt a copy of the election manifesto of the Congress and attacked the party for its proposal to ban Bajrang Dal if it came to power in Karnataka.
Describing the outfit as a "patriotic organisation", the former deputy CM, "How dare they (Congress) have courage to talk about banning Bajrang Dal".
The Congress in its manifesto for the May 10 assembly elections in Karnataka said it was committed to taking firm and decisive action against individuals and organisations spreading hatred amongst communities on grounds of caste and religion.
"We believe that law and Constitution are sacrosanct and cannot be violated by individuals and organisations like Bajrang Dal, PFI (Popular Front of India) or others promoting enmity or hatred, whether among majority or minority communities. We will take decisive action as per law including imposing a ban on such organisations," the Congress said in its manifesto.
Hitting out at the Congress, Eshwarappa dubbed it a "manifesto of Muslim League (of Pakistan founder Muhammad Ali Jinnah).
The former state BJP chief said: "(KPCC president) D K Shivakumar says the entire Vokkaliga community is behind him and he will become chief minister, (Congress leader) Siddaramaiah says backward classes are with him, and he will become chief minister," accusing the two leaders of trying to spread hatred amongst communities.
"We should arrest Shivakumar and Siddarmaiah first. Action should be taken against them," Eshwarappa, a former minister, said.
Congress national president Mallikarjun Kharge condemned the act of burning the manifesto.
"It is not good to burn the manifesto. It is like burning the guarantees given to the people. What we have given in writing, he has set on fire. It is like insulting people and democracy," Kharge told reporters in Kalaburagi.
According to top Congress sources, Shivakumar was not aware of the ban on Bajrang Dal proposed in the manifesto.
"Those who read it before the launch told the team that prepared the manifesto not to mention ban on Bajrang Dal. It will definitely have a repercussion but they did not listen and went ahead. Now we all are paying the price for it," a Congress office bearer told PTI.
A defensive senior Congress leader and former Karnataka Chief Minister Veerappa Moily on Wednesday said there was no suggestion before the party to ban Bajrang Dal if elected to power.
Addressing reporters in Udupi, he said the Congress had mentioned action against organisations like the Bajrang Dal in the manifesto in the backdrop of the Supreme Court's stringent observations against hate politics.
Moily said state governments did not have the right to ban such organisations.
"The BJP, which now adores Sardar Vallabhbhai Patel, forgets that Patel had banned the RSS at one juncture," he said, adding that Jawaharlal Nehru later revoked the decision.
"The Supreme Court's stand over hate politics is very clear. We had made the statement in our manifesto as a part of it. But we have no intention of banning Bajrang Dal. KPCC president DK Shivakumar has made it clear today (Thursday)," Moily said.