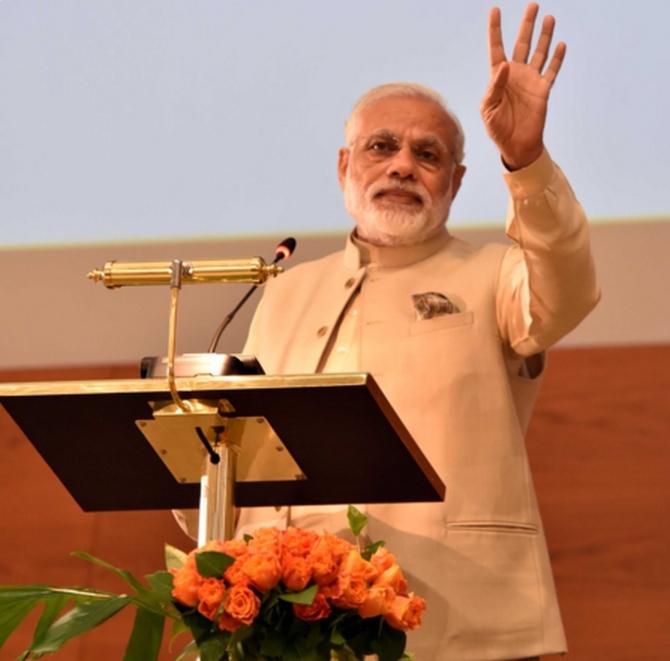 Vowing to root out corruption in India, Prime Minister Narendra Modi on Sunday said he has "faced problems" by depriving the "sweets of many" and saved over Rs 36,000 crore annually by stopping leakage and theft in government schemes.
Addressing the Indian diaspora at the end of his two-day visit to Qatar, Modi said, "We have only cleaned up the0020surface (on corruption) and a detailed clean-up remains."
"We have stopped the sweets of many and in doing so, I have also faced problems. But I get the strength to face these problems from the love received from 125 crore Indians," he said, likening criticism of the government's action to a child getting angry on being deprived of a sweet by his mother.
Modi, who was repeatedly cheered by the Indian community members, said efforts to ensure financial transparency, discipline and efficiency have started yielding good results
"Can you imagine? We have saved Rs 36,000 crore per year by stopping leakage and theft in various government schemes," he said.
Modi said 1.62 crore fake ration cards have been detected and saved crores through subsidised wheat, rice, kerosene and LPG.
"Corruption has made our country hollow, eating into its vitals like termite," he said.
In a veiled attack on the earlier Congress regimes, Modi said: "Today across the world, India's image has been enhanced and the country is being viewed respectably. Everyone is being attracted to India. You would have noticed the change when people from other countries meet Indians."
IMAGE: Prime Minister Narendra Modi addresses the Indian diaspora at the end of his two-day visit to Qatar. Photograph: MEA/Twitter