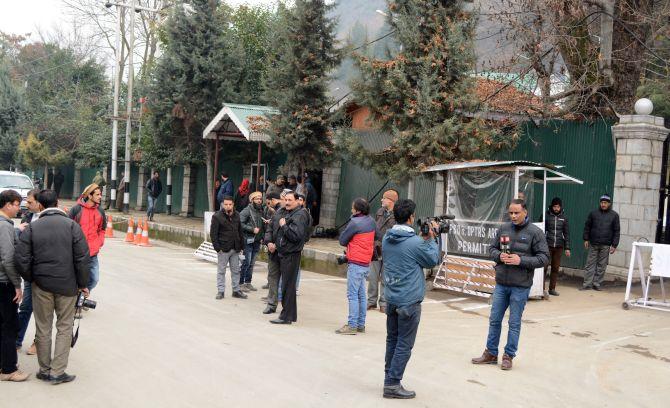 PDP workers and mediapersons started gathering at the official residence of Jammu and Kashmir Chief Minister Mufti Mohammad Sayeed in Srinagar after getting the news of the leaders demise in New Delhi on Thursday. Photographs:

Umar Ganie
The mortal remains of Jammu and Kashmir chief minister Mufti Mohammad Sayeed, who passed away in New Delhi on Thursday morning, will be brought to Srinagar in the afternoon by a special plane.
The body will be taken to the official residence of the chief minister on Gupkar Road where a large number of party leaders and workers have already gathered to pay homage to their leader.
Official sources said the body will be kept at the residence for the people to pay their respects before it is taken to Bejibehara, his hometown later in the day.
Arrangements are being made at Bejibehara for his last rites.
The national flag will fly at half mast on Thursday as a mark of respect to Sayeed and the Union home ministry said that the government has decided to accord state funeral to the 79-year-old leader.
The state government also announced a holiday for Thursday and seven-day mourning in honour of the chief minister. During the period of state mourning, the national and state flags will fly at half mast.
Meanwhile, sources said that People's Democratic Party president and Sayeed's daughter Mehbooba Mufti, 56, will be sworn in as the first woman chief minister of the state.
Relatives of Jammu and Kashmir Chief Minister Mufti Mohammad Sayeed arrive at his official residence in Srinagar on Thursday.