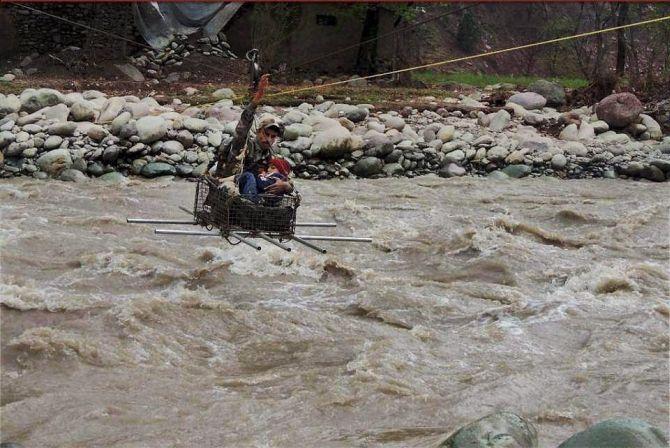 After two days of dry weather, Kashmir on Wednesday received rainfall again but the flood worries decreased as water level in river Jhelum continued to recede.
The state's summer capital Srinagar, which was devastated by floods in September last year, received 7.2 mm of rainfall till 2.30 pm on Wednesday, an official of the meteorological department said.
South Kashmir also recorded about the same amount of downpour while Kupwara in north Kashmir received 12.4 mm rainfall since this morning, the official said.
However, the water level in Jhelum, which was above danger mark on Monday, continued to recede for the second consecutive day.
The river was flowing at 10.85 feet at Sangam in south Kashmir, way below the danger mark of 21 feet while the level at Ram Munshi Bagh in Srinagar was 14.80 feet against the flood level of 19 feet, a police official said.
"The water level has decreased considerably since Tuesday morning and there is no imminent threat of flood now in Kashmir," the official said.
He, however, said the rainfall, which began last night and is expected to continue for next two days, can again cause surge in the water of level of Jhelum and its tributaries.
"All the contingency plans are in place... temporary shelters have been set up for people evacuated from flood prone areas," he said.
The official said NDRF and State Disaster Response Force teams have been put on a stand by to meet any eventuality.
An official spokesman said Srinagar district administration has made all preparatory contingency arrangements to facilitate people in view of the weather forecast.
The district administration has established 42 rescue and relief operation camps at different locations and asked people to contact joint control room established at the police control room for any flood-related information, he said.
Regarding availability of essential commodities, the spokesman said 31,32,600 quintals of rice, 19,000 quintals of sugar, 16,600 quintals of atta and 16,93,400 quintals of wheat are available at different outlets of Consumer Affairs and Public Distribution besides 71,314 LPG cylinders.
As many as 3,900 tents, 6,000 blankets and 900 hand torches are available with district administration, he said.
He said the district administration has also kept 217 trucks and buses at various police stations and relief camps.
In addition, the spokesman said dozens of boats have also been arranged at different locations including police stations Nowgam (11 boats), Pantha Chowk (six), Parimpora, Sadder and Raj Bagh (four each), Maisuma and Police Control Room (three each), Kothi Bagh and Channapora (two each) and Batmaloo (one).
Eight boats have been kept with district administration Anantnag in south Kashmir, the spokesman said.
Army has also put in place several measures to help the people in affected areas.
Three composite rescue groups constituting of Infantry, Engineers, EME and Army Medical Corps have been set up at Badamibagh Cantonment, Old Airfield and Zainakot, an army official said.
"All dewatering pumps held with Army are deployed in the low-lying areas," he added.
Heavy rainfall since Saturday has already resulted in death of 16 people in Chadoora area of Budgam district of Kashmir.
The deaths took place when a residential house at village Laden collapsed due to caving in of earth caused by heavy rains.
Image: An army person rescues a boy from flash floods in Poonch, Jammu and Kashmir. Photograph: PTI Photo