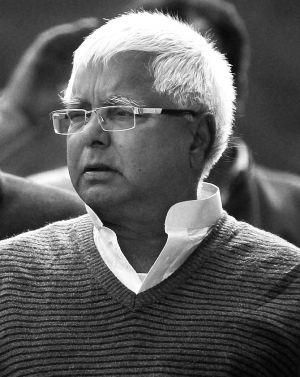 In a jolt to Lalu Prasad ahead of Lok Sabha polls, the Rashtriya Janata Dal split on Monday as 13 of the 22 party MLAs in Bihar announced they have quit the party but six of them later claimed they are not part of the breakaway faction.
The MLAs who quit in a dramatic development pledged support to the Nitish Kumar government.
A letter reached the state assembly bearing the signature of the 13 MLAs stating that they were leaving the RJD.
"In accordance with their request as per an interim arrangement they have been given permission to sit as a separate group," an assembly notification said.
Shortly afterwards, accompanied by RJD Legislature party leader Abdul Bari Siddiqui, the six MLAs told reporters that they did not consciously sign any letter for walking out of RJD and forming a separate group.

Abdul Gafoor claimed that the signatures of MLAs were taken for different purposes like raising a matter for call attention motion during the Assembly session.
"I did not sign any letter consciously to leave RJD… a fraud has been committed with me," Gafoor said.
Besides Gafoor, the other MLAs who came to RJD office to deny a split were Lalit Yadav, Faiyyaz Ahmad, Durga Prasad Singh, Chandrasekhar and Akhtar-ul Islam Sahin.

Siddiqui told reporters that a meeting of the RJD Legislature party has been called on Tuesday at the residence of former chief minister Rabri Devi at 12 noon where some more MLAs would make their position clear.
Lalu Prasad, who is RJD President, downplayed reports of a split in his party, saying he was inquiring into the matter.

"I have heard about it. I am finding out what is happening," he told reporters in Delhi when asked for his reaction to the split in the party.
Siddiqui alleged that a fraud had been committed on his party at the behest of the chief minister.
He also pointed fingers at Speaker Uday Narayan Chaudhary for acting promptly on the letter without verifying whether the signatures were authentic.
"A healthy parliamentary practice demands that the Speaker should have called all the 13 MLAs and asked them about their signatures. But, he did not do this and got a notification issued to recognise them as a separate group."
Siddiqui and the six MLAs accused legislator Samrat Chaudhary, a former minister and son of senior party leader Shakuni Chaudhary, of fraudulently including their names in the list of 13.
"Chaudhary has been lured by the CM with a ministerial berth to indulge in the fraud," he alleged.
Lalit Yadav also denied giving his signature for the purpose of leaving the party.
"If we have to leave the party we will do it in broad daylight," the MLA from Manigachi in Darbhanga district said.

Siddiqui accused Nitish Kumar of engineering the break up in his party to save his minority government.

"For the last two years a rumour was floated that I was offered the post of deputy chief minister and I will soon walk out of RJD for this with other party MLAs ... but this did not come true," he said.

While the drama was being enacted in the RJD, Chief Minister Nitish Kumar was attending a function of Chankya Law University and later presided over a Cabinet meeting.

Samrat Chaudhary, who flew with the chief minister in a helicopter to Khagaria yesterday to inaugurate a road bridge said, "In the last three months Lalu Prasad has reduced RJD as B team of Congress."
"The party which sent him to jail by tearing up an ordinance has become the ideal of Prasad who is losing no opportunity to pester its leaders," he said.
Chaudhary as per reports is adamant to contest Lok Sabha election from Khagaria. As per reports, Khagaria was given by Prasad to Congress.
When reminded that Prasad had sided with Congress earlier also, Samrat Chaudhary said the situation was different now.

Javed Ibbal Ansari, RJD MLA from Banka, praised the chief minister. "By severing ties with BJP, Kumar has shown his commitment to fight a communal leader like Narendra Modi," he said.
The RJD MLAs whose signatures were on the letter were Samrat Chaudhary, Raghvendra Pratap Singh, Durga Prasad Singh, Lalit Yadav, Anirudh Kumar, Jeetendra Rai, Akhtar-ul-Islam Sahin, Akhtar-ul-Iman, Abdul Gafood, Faiyazz, Javed Iqbal Ansari, Ram Lakhan Ram Raman and Chandrasekhar.
The development would boost Nitish Kumar's strength in the 243-member assembly.
JD-U had 116 MLAs including the Speaker. It had got the backing of 4 Congress MLAs, 4 Independents and one CPI MLA in the trust vote on June 19 last year after it parted ways with BJP.
Two seats were vacant after Parveen Amanullah resigned from Cabinet and Assembly to join the Aam Admi Party. Another JD-U MLA Damodar Singh had died in Jharkhand of heart attack recently.