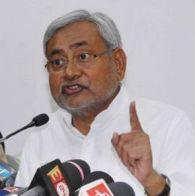 Bihar Chief Minister Nitish Kumar on Friday called for a daylong 'Bihar Bandh' on March 1 to protest against denial of special category status to the state by the Congress led UPA government.

"I appeal to all people of the Bihar to support a daylong shutdown on March 1 to protest injustice to the state as central government has deliberately denied special category status and ignored our genuine demand for it," Nitish Kumar told reporters in Patna.

Nitish Kumar said that he will request the 10.5 crore people of Bihar to join the bandh to express their solidarity with the demand for special category status to
the state.

He said that if Seemaandhara can be granted special category status in one day following Congress president and UPA chairperson Sonia Gandhi's approval for it, why has Bihar been denied the special status despite the long fight for it?

"We will protest by a historic shutdown in the state."

Nitish Kumar reiterated that special category status is a must for the development of a backward state like Bihar.

He reminded people that things were moving in the right direction for granting Bihar special category status on the basis of the Raghuram Rajan Committee report. "A meeting on this was even scheduled on November 28 but the Congress-led UPA government at the Centre chose to go slow under the influence of the Rashtriya Janata Dal," Kumar said.

The Raghuram Rajan Committee last year identified Bihar as one of the "least developed" states. The chief minister then described the committee's report as a victory for Bihar.
Nearly two dozen MPs of Bihar's ruling party Janata Dal-United staged a dharna in Parliament on Tuesday demanding grant of special status to the state.
Late last year and early this year, Nitish Kumar had hinted that the demand for special status for Bihar will be a major issue in the Lok Sabha elections if the Centre denied the demand.

He pointed out that Bihar's per capita income, investments and electricity consumption are the lowest in the country and it also lags in all human resource indices.

Bihar would take at least 25 years to touch the national average of economic growth without special category status, Nitish Kumar said. To put pressure on the Centre, the JD-U had held a rally in Patna in 2012 and in New Delhi in 2013 . The JD-U also collected over 10 million signatures on the issue.