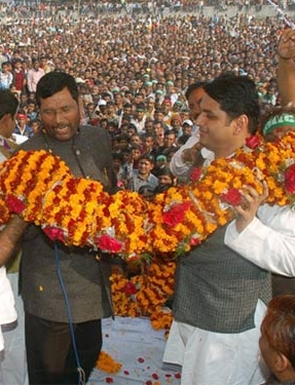 A day after reports surfaced about an alliance between the Lok Janshakti Party led by Ramvilas Paswan and the Bharatiya Janata Party-led National Democratic Alliance to contest the Lok Sabha polls from Bihar, a senior leader of the saffron party has strongly spoke out against any such tie-up.
"Paswan is an opportunist. He is keen to join the BJP in view of the wave sweeping across the country in favour of the party's prime ministerial candidate Narendra Modi," said BJP leader Ashwani Kumar Choubey.
"It would be suicidal for the party to have an alliance with the LJP," said Choubey, a vocal supporter of Modi.
The LJP, he alleged, is a party that "symbolises family rule and believes in political opportunism".
An electoral alliance with the LJP should not be finalised at the cost of the workers of the saffron party and its leaders, Choubey said.
"The LJP is demanding 11 Lok Sabha seats," he divulged.
A senior LJP leader, who is close to party chief Paswan, confirmed that the BJP has been in touch with the party to ink an electoral alliance.
Interestingly, Paswan has repeatedly played up the fact that he had walked out of the Atal Bihari Vajpayee-led NDA government in the wake of the Gujarat riots in 2002.
Till last week, Paswan was reportedly in touch with both the Congress and the Rashtriya Janata Dal to seal the deal for a 'secular formation'.
But the LJP was bargaining for 9 to 10 of the 40 Lok Sabha seats in Bihar, while neither the Congress nor the RJD were keen on parting with more than five seats.
When the LJP's demand for more seats was rejected by the Congress-RJD combine, Paswan approached the BJP to seek a political alliance.
The Congress and the RJD's reluctance to part with more than five seats for the LJP is understandable as the Paswan-led party had performed disastrously in the 2009 Lok Sabha polls.
The LJP had failed to win a single seat and even Paswan had lost from his stronghold of Hajipur.
Image: LJP chief Ramvilas Paswan (left) at a political rally