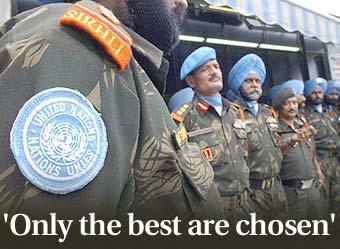 As the government debates whether or not to send troops to Iraq if the United Nations asks for peacekeepers, the Indian Army itself seems divided over the subject.
What does it take to join a peacekeeping mission? In an exclusive discussion with Senior Editor Sheela Bhatt, a senior army officer discusses his mission in the Horn of Africa. 
Since serving officers are not allowed to publicly voice their opinions on sensitive topics without clearance from the defence ministry, we accepted his request that the officer speak without being identified. 

Unlike many Western nations, which prefer sending dullards, Indian soldiers sent on UN peacekeeping missions are screened strictly for merit. Only the best make it. After selection, they are put through a gruelling orientation course before being deployed. 
As far as I know, most Indian officers like to go on peacekeeping  missions. In the last 10 years I have not met anyone who has opted out except for those who had family problems.

When I was selected to join the team being sent to the Horn of Africa, I was quite delighted to accept. Our first stop was the United Services Institute, which runs a nodal agency for training and briefing peacekeepers. Among other things, we learnt about the nature of conflict between Ethiopia and Eritrea, the two warring sides, some case studies of peacekeeping successes and failures (like Somalia) and the UN peacekeepers code of conduct. We were also given lessons in diplomacy. 

When you are on a peacekeeping mission, the only protection you have is the blue (UN) helmet, we were told. 'You are an officer without arms. You are an observer of the situation, of the conflict.'  And 'When you  see an agitated person, don't cock your weapon. Make him your friend. Learn to live between warring groups.' And on our missions abroad 'we are not an individual, we are Indian.' 
Our visa, passport, insurance and other logistics were handled by the Staff Duty director. The United Nations insures each soldier on a peacekeeping mission for $50,000. Normally each soldier or officer is sent for a year and is paid around Rs 7.5 lakh by the UN. The UN also takes care of tickets, mission sustenance allowance, conveyance and other expenses.
Our daily mission sustenance allowance is also supposed to take care of our food and lodging expenses.

Again, unlike Western soldiers, who spend heavily on food, Indian officers easily save a part of their  daily allowance by carrying rice, dal and such stuff from home to sustain his daily khana-pina.

After 20 years of service, I'll have savings of around Rs 8 lakh. If one is selected for a UN peacekeeping mission, one can save the same amount in just one year though this also depends on the rank. But even a sipahi can save Rs 2 lakhs to Rs 3 lakhs if selected. But those who believe Indian officers are vying to go on peace missions just to earn a few extra bucks are dead wrong. 
Money can't buy this experience. Indian officers get access to international equipment, multi-national command system and an exposure which an ordinary soldier cannot even dream of. 
When I was in Ethiopia I came in touch with soldiers and officers of 47 countries, and it was a most enriching experience. I may have spent my earnings, but I still cherish my experiences. 
Italy was the colonial ruler of Eritrea till 1952. Ethiopia annexed it in 1962. After 30 years of war and conflict, Eritrea earned independence. In April 1993 an internationally monitored referendum voted  for independence, but the borders were not defined clearly. In 1997, a border commission was established. But it could not stop the war. It is reported that between May 1998 and June 2000 some 100,000 people have died in the border clashes and millions have been spent on weapons instead of development.

When I was selected to monitor the Ethiopia-Eritrea border, I was more than happy to go.

On our arrival UN  officers in Asmara, Eritrea, briefed us. Our job was to enforce a ceasefire along a particular section of the border, which had seen almost daily fire. We would have no administrative back up or support. What was worse, the border was not clearly demarcated.

There were about 1,000 Indian soldiers among the three battalions of the UN mission in the Horn of Africa. In Ethiopia we did not have our own guards or vehicles and had to  survive with a solitary Land Cruiser. The UN mission's regional office was in Asmara on the other side of the border. 
In any UN peace mission, the team, consisting of 7 or 8 people, is the smallest entity. Since they are always from various nations, differences in language, culture and the attitude to working conditions have to be overcome. The only unifying factor is the military ethos and culture.

My team leader was from the Western African Republic of Benin, a country  I knew nothing about. My other colleagues were from Bangladesh, Nepal,  Russia, Malaysia, France and Zambia. 
On the very first day, the revelation that I was a strict vegetarian caused much consternation. Then there those who ate pork, and those whose religion forbade it. We sorted out the problem by a rule of give and take. On the days that I was supposed to cook, all of them turned vegetarian. For a few weeks, my colleagues could neither understand nor accept the concept of vegetarian cooking. 
How do you survive, they kept asking. I responded by preparing a wide array of vegetarian dishes. In a few months, these differences in culture and background turned into bonds rather than barriers. 

There was a high-ranking Muslim military man from Jordan in my team who was very uneasy about serving with me. Why are Hindus against Muslims,  he asked me one day.

I explained the concept of Hindustan to him and pointed out how India has embraced many religions of the world. I talked about Partition and  the two nation theory, and how politicians had a narrow view of current issues. Hinduism is a way of life and not a religion, I said. In return, he explained how Islam is not anti-woman and not at all barbaric. Our seven hour overnight discussion turned us into strong friends. I salute him for making me understand Islam.

But the differences in culture are sometimes difficult to ignore. European soldiers and officers tend to sneer at the poor Africans. "Look how poor they are, how badly dressed these guys are. What dirty surroundings"  are common comments. Being a South Asian, I understood Africans perfectly. We both face similar problems.

Though we worked with an interpreter, I picked up a working knowledge of  the two local languages, Tigrigna and Amharic, within a month. I was surprised to learn that they contain many Urdu and Arabic words. I also befriended an Indian trader who ran a small shop in Eritrea. 
Eritreans take immense pride in their culture and tradition. Houses were never locked, yet there were no thefts reported. The area we were posted in was a bone of contention between the Ethiopians and the  Eritreans. Ethiopians living in the area were tense over reports that the International Border Commission was considering the recommendation to give that region to Eritrea, and tensions ran high. We were trying to maintain the status quo till a political solution could be found. 

But then a group of international journalists arrived at the border and the situation changed for the worse overnight. Unaware of the tensions, they went around asking the people what they felt like when they heard that the area was being given to Eritrea. This inflamed the community who believed that their land had already been given to Eritrea.

Suddenly, the Ethiopian army restricted our movement. The border was sealed and we could not go to the head office in Eritrea. The entry of UN teams was banned in the sensitive area, and we were completely at the mercy of locals. Since our line of supply was closed we didn't have petrol, food or  diesel. Worse, in 50 degree heat we were living without water. Finally, my team leader requested me to use my goodwill with the Ethiopian military commander.

It worked. "Okay, let politicians fight. Military men shouldn't," the Ethiopian said. Risking his career, he gave us a  tank full of water and continued to supply food and water against his people's wishes. He was duty-bound to make our life miserable, but I would like to believe he took the risk because he trusted an Indian.

I observed many Americans in the region and found that they were very mechanical. They are so well-equipped, so perfectly trained and so well-protected in all respects that they have lost the human touch. Most of them also had an attitude problem. 
At the height of the tension, an American officer ignored warnings and  decided to shoot pictures of the Ethiopian army camp from a hilltop. UN officers were allowed to take pictures, he argued. He was right, but that didn't stop the Ethiopian army from arresting and jailing him. 
Once again, my services were sought. After repeated assurances that no  one would take pictures without their explicit permission, the Ethiopian commander finally agreed to release the American. But the American remained unrepentant.
After our mission was over, most Western officers in our batch proceeded to tour South Africa with their savings. I rushed back home to spend it on my family.
 Photograph: PRAKASH SINGH/AFP/Getty Images
 
EARLIER: