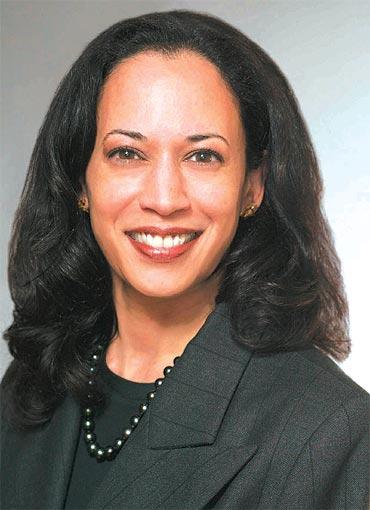 Two attorneys in San Francisco, Sheila Bapat and Neha Shah, and a writer/producer in Los Angeles, Saurabh Kikani, have formed South Asians for Kamala Harris to help get San Francisco District Attorney Harris elected as California's next attorney general.
Bapat, Shah and Kikani were actively involved in the Obama presidential campaign.
If Harris is successful in securing the Democratic primary and ultimately wins the general election in November, she will achieve many firsts: The first Indian American, the first African American and also the first woman attorney general of California.
In announcing South Asians for Kamala Harris or sa4kamala, the three activists said in a statement, 'Kamala's primary is June 8, and early voting starts several weeks before then, and with an extremely competitive campaign season ahead of us, there is a lot to do.
As of right now, our focus is on voter registration, student and young professionals outreach, even planning, and fundraising. We have started collaborating with many South Asian-based student, young professional, and special interest groups as well as attending and conducting outreach at South Asian-based events.'
Exhorting the South Asian community to get involved, the trio noted: 'All of this will continue to take time, dedication and manpower.'
For those interested in becoming 'involved with the campaign or specifically South Asian outreach, this is a great opportunity for you,' they added.
Bapat, who lives and works in the Bay Area and serves on Harris's Young Professionals' Finance Committee, told India Abroad that South Asians for Kamala was "designed to engage new South Asian voters to be involved" in Harris' campaign.
"We take information about her candidacy to South Asian cultural and professional events and encourage South Asians to register to vote, support Kamala and get involved in her campaign," she added. "While many South Asians are politically active, there are still those who are not aware of this exciting candidate, her South Asian heritage and all that she would do for California as attorney general."
Chicago native Shah, 25, who is currently living and working in San Francisco and is part of the leadership team for the American India Foundation Bay Area Young Professionals Chapter, told India Abroad that being involved with the Harris campaign and launching South Asians for Kamala "has been exciting and rewarding."
She said, "The response we have received from the South Asian community has been remarkable, and our hope is to continue engaging South Asian constituents by building awareness as well as inciting action about Kamala's race. I am excited to see such a promising candidate of South Asian heritage in the race."
Kikani told India Abroad, "South Asians have a strong political heritage, what with Indian being the largest democracy in the world, and as South Asian American, it is a part of our cultural heritage to be engaged with our communities, social issues of the day, and the betterment of our nation. In Kamala Harris, California's South Asian community has a dynamic and accomplished candidate who will further this lineage of thoughtful political action."
By end January, Harris's campaign had raised more than $2.3 million and Harris said the $1 million-plus raised from California during the past six months had sent "a strong signal about the strength and depth of our campaign."
She said, "Another powerful statistic is that nearly one-half of these campaign contributions were made online. And the overwhelming majority of contributions —about 90 percent — came from individual contributions."