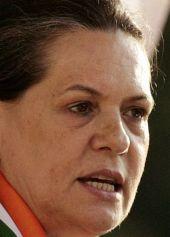 Visiting a village in Haryana to console a Dalit rape victim's family, Congress President Sonia Gandhi on Tuesday pitched for stringent punishment to the perpetrators even as she rejected a Khap Panchayat's demand to reduce marriagable age of girls to 16.
Gandhi, who drove to the home of the teenaged victim, said perpetrators of such "barbaric" crimes must be given severe punishment. The girl had immolated herself after being allegedly gang-raped in this district on Saturday, the 13th incident within a span of a month in Haryana.
"Main is tarah ki ghatnaon ki bharpoor ninda karti hoon. Doshiyoon ko sakht se sakht saza milni chahiye (I strongly condemn such incidents. The guilty must be severely punished)," Gandhi told reporters in a brief interaction at village Sachha Khera in Narwana town of this district.

Asked to comment of a Khap Panchayat leader's suggestion that marriagable age for girls should be brought down to 16 from 18 to help curb increasing instances of rape, she dismissed it.
"We have a democratic system here, we have an independent judiciary...law is in the hands of judiciary, nobody else," she said.
She met the victim's family after her arrival at about 10 am and assured them of all possible help.

"On meeting her I broke down into tears. Gandhi hugged me and said my daughter is her child too and she will ensure that justice is delivered," said the victim's mother Rajkali.
The 16-year-old victim is also survived by her father Balraj, grandfather Ramchander, grandmother Dhanpati, two brothers Mintu and Sahil, and four sisters.
After her meeting, Sonia, when asked to comment on the growing number of such cases in Haryana in the recent past, said such crimes do not take place in the State alone, but other parts of the country as well and were condemnable.

The gang-rape victim had on Saturday doused herself with kerosene and in her dying statement made before a Magistrate said she took the extreme step after her rape.
After the incident, the victim's mother had threatened that if justice was not done, she too would commit suicide.
Sonia was accompanied by Haryana Chief Minister Bhupinder Singh Hooda, who met the victim's family for the first time after the incident on Saturday. Union Minister Kumari Selja, Haryana Minister Randeep Singh Surjewala and Congress MP from Sirsa, Ashok Tanwar were also present.