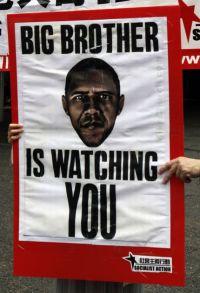 India on Thursday bluntly told the US that surveillance of political leaders and others in India by the American intelligence was "unacceptable" to which the US responded by saying that any differences that may exist can be resolved by intelligence communities of the two countries.
This emerged after marathon talks between visiting US Secretary of State John Kerry, the highest-ranking dignitary to visit India since the installation of the Modi government, and External Affairs Minister Sushma Swaraj here. The two sides had wide-range of key issues like trade, defence and energy.
At a joint press conference tonight, Swaraj was asked if she had raised the issue of surveillance of BJP leaders in 2010 by the US National Security Agency (NSA), as was made public recently on the basis of revelations of former NSA contractor Edward Snowden.
Swaraj replied,"I raised this issue with Secretary Kerry. I told them that when this news appeared in Indian papers, Indians were agitated and they had expressed their anger too. Main ussi rosh se apko awgat karana chahati hoon (I want to make you aware of that anger).
"I even told him that both countries consider each other as friendly nations and it will not be acceptable to us from any angle if one friendly country spies on another friendly country. This is unacceptable to us."
However, Kerry defended the US snooping saying, "We value our relationship with India, our bilateral relationship...we also value sharing of information between each other regarding counter-terrorism and other threats to both of our countries.. Usually, we try to have our intelligence communities work to resolve any questions or differences that may exist.
"We will continue to work actively with India wherever we see a threat to our shared interest and we fully respect and understand the feelings expressed by the minister."
Kerry also maintained that US has a policy that it does not discuss intelligence matters in public. However, he added that America had conversations as the Minister has stated with government officials about surveillance reports.
Swaraj also raised the issue of US immigration bill pending before the Senate which may limit the mobility of Indian IT professionals to the US.
The minister said she has conveyed to Kerry that if passed it will send a "negative signal" to professionals here when India is opening up and added that her ministerial colleague Nirmala Sitharaman has also raised the issue.
Another issues which was discussed in detail was India's stand on food security at WTO.
On trade-related issues, Kerry said there was a lot of work yet to done in breaking down trade barriers and to limit obstacles including tariffs, price controls, preferential treatment to certain products in large influential markets.
"We can build a more competitive market as well as build the bridges of opportunities that our young people in both the countries want so much. With 10 million Indians entering the work force each year, the Indian government clearly understands this imperatives," the US leader said.
Kerry and Swaraj also discussed initiatives in various key areas as part of the agenda for the meeting between Prime Minister Narendra Modi and US President Barack Obama in September in Washington.
"In weeks to come, we will take series of steps to pave the way for PM Narendra Modi's visit to US in September," Kerry, who will call on Modi tomorrow, said and noted that the moment has never been "more ripe" to deliver on incredible possibilities of relationship between the two nations.
"Now that India's new government has won a historic mandate to deliver change and reform, together we have a singular opportunity to help India, to meet the challenge, to boost two-way trade, to support South Asia's connectivity, to develop cleaner energy, to deepen our security partnership in Asia Pacific," the visiting leader said.
Asserting that the US and India can and should be indispensable partners of 21st Century, Kerry said, "Of course delivering…is the key. The words are easy. It's the actions we need to take. They will really define the relationship in the days ahead" and noted Modi government's plan for 'Sabka Saath Sabka Vikas'(together with all, development for all)".
On her part, Swaraj asserted that there was no "ambiguity" on the term strategic partnership with the US as the foreign policy don't change with change in the government.
The leaders also reaffirmed their commitment to the full implementation of the India­ US civil nuclear agreement and welcomed the Authorization to Proceed provided to Westinghouse to implement the pre-Early Works Agreement with NPCIL as of September 2013.
Kerry and Swaraj also discussed other international issues including climate change, security situation in Afghanistan and conflict in Gaza.
Asked about India's position on Gaza conflict, Swaraj in a short reply said India respects the cause of Palestine and was friendly with Israel.
Swaraj and Kerry reiterated their condemnation of terrorism in all its forms and reaffirmed their commitment to eliminating terrorist safe havens and infrastructure, and disrupting terrorist networks including Al-Qa'ida and the Lashkar-e-Taiba.
"The leaders called for Pakistan to work toward bringing the perpetrators of the November 2008 Mumbai attacks to justice," a joint statement issued after the Dialogue said.