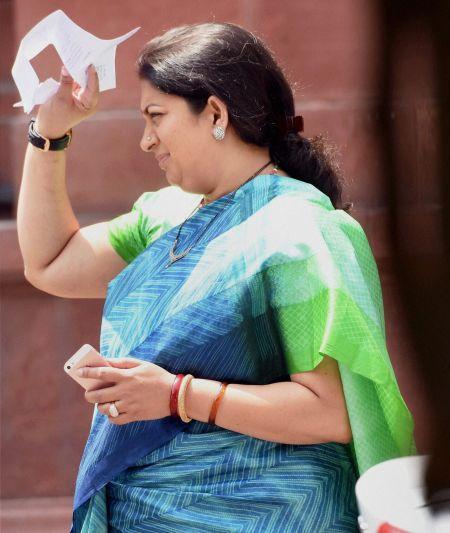 A war of words broke out on Monday on Twitter between Human Resource Development Minister Smriti Irani and Congress leader Priyanka Chaturvedi, with the Bharatiya Janata Party leader taking a dig at Rahul Gandhi, saying that losing Assam elections was "his forte".
In a tweet, Chaturvedi, while interacting with another person mentioned the HRD minister and said "a perceived threat to @smritiirani"s life gets Z sec, here I am struggling to get rape/death threat investigated. (sic)"
Not one to hold back, Irani responded by telling Chaturvedi that she does not have "Z" category security.
Chaturvedi stated that she didn't know the internal workings of the home ministry and went as per newspaper reports. "I presume no security at all then @smritiirani?" she tweeted.
Irani responded by questioning the Congress leader, "Why are you so interested in my security? Planning anything?"
Chaturvedi responded by taking a swipe, saying it is "Not worth my time, so don't worry on that front @smritiirani, you must concentrate on creating another campus ruckus."
"Dats more Rahulji"s forte. Oh wait, losing Assam is. My bad. Have a good day, (sic)" Irani hit back with a jibe.
Chaturvedi retorted with another sarcastic remark.
"Repeatedly losing and yet becoming a minister in the cabinet is your forte. You have a glorious day too @smritiirani," she posted.