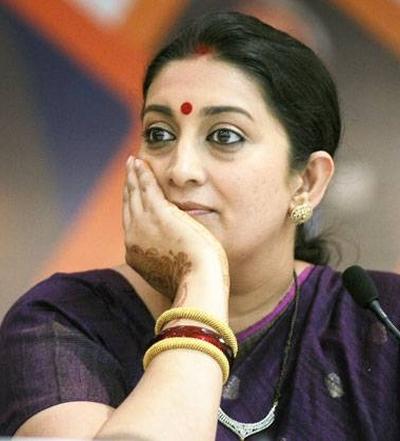 An alert Union Human Resources Development Minister Smriti Irani on Friday raised an alarm after she spotted a hidden camera at an outlet of a leading garment store that was pointed towards the trial room she used while trying out some clothes after which Goa police registered a case of voyeurism.
Four staff members of the Fabindia showroom at the upmarket boutique chain at Candolim near Panaji were detained for questioning following a complaint by Bharatiya Janata Party legislator Michael Lobo who was called by Irani after the incident. The minister is on a private visit to Goa along with her businessman husband Zubin Irani.
Irani came across the camera when she was in the showroom to buy clothes and immediately protested, alerting her husband, said Superintendent of Police (North) Umesh Gaonkar.
She then called Lobo, who lodged the First Information Report.
Gaonkar said four staff members of the showroom were detained and that objectionable images were seen from the recordings of the hidden camera that was seized by police.
Footage from the camera, installed four months ago according to staff at the store, was being recorded in a computer in the manager's office, Lobo said, adding that it held many recordings of people changing in the trial room.
"When we went through the hard disk and computer to check the recordings we saw everything. All things were getting recorded over there when anybody was changing clothes. From the level of stomach till above everything was getting recorded," he said, adding, "This is mischief... Somebody has been watching the recording."
Police have already sealed the shop and is inspecting the showroom. The CCTV camera was installed on a wall, against a foot-high ventilation gap on the side of the trial room cubicle.
"A case has been filed under section 354 C (voyeurism) and 509 (intrusion into privacy) of Indian Penal Code against employees who were monitoring the cameras. We are analysing the entire data," Gaonkar said.
Fabindia Managing director William Bissel said there are security cameras in all the stores but they are not in trial rooms.
"They cannot see what is happening inside the trial room," he said.
Bissel said his staff was not able to detect any of what Lobo had said of images inside the trial room and they have to be verified.
"The cameras are routinely placed in places where shoplifting can occur," he said.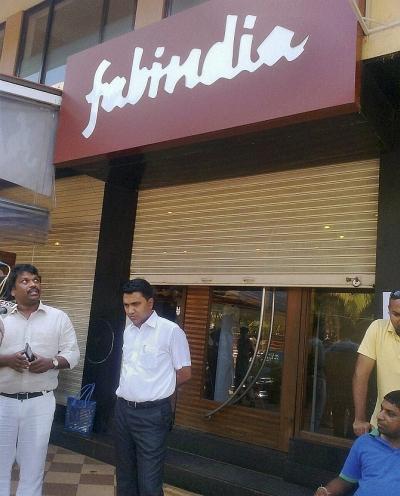 "We have investigated the issue. We are an organisation whose management team 70 per cent comprises women. Our team members have seen the recording and we have not detected any of what Mr Michael Lobo said. We have not been able to verify any of his statements.Until such time we verify these claims, it has to be stated as claim. These are unverified claims... We had a senior officer with us in our investigative unit. He looked at everything very carefully and as of the moment this is a claim. Security cameras installed are not focused on trial rooms," Bissel said.
Bissel also said Fabindia will cooperate with police in its investigations.
The Rs 1,000-crore homegrown lifestyle brand, Fabindia has set itself a target of increasing its customer base from 1.5 million to 10 million customers within the next four to five years. The company is better known for ethnic wear.
Calangute police, which searched the showroom after a complaint by Lobo, found a CCTV camera installed in the ventilation unit of the room.
Gaonkar said police have recorded the statement of Irani.
"Irani's statement has been recorded as a victim, along with another woman who had entered the room earlier," he said.
Gaonkar said that police have formed special team to inspect all the showrooms in the coastal belt to ensure that there are no CCTV cameras installed in changing rooms.
He said instructions will also be issued to all the police stations to form teams and inspect the changing rooms in their respective areas.
In Bangalore, Goa Chief Minister Laxmikant Parsekar said, "Right now I'm in Bangalore for national executive meet but I have been given to understand that Smriti Irani had gone to Goa, and during her stay in Goa probably she went for some purchases in shop by name FabIndia.
"Suo moto case has been registered against the concerned person. We will take stringent action. Don't worry we will take stringent action, case has been registered against the culprit. Through investigation would be done and the culprit will be taken to task."
"I spoke to the police officer over there. It was reported that she had gone for changing of clothes and immediately she noticed that there was one hole in the room and beyond the hole a camera was hanging. So she immediately came and complained. It was verified, it was confiscated, it was learned that it was functioning and case has been registered against the manager and the staff," he said.