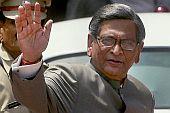 Days before the Cabinet reshuffle, External Affairs Minister S M Krishna has resigned from his post.

He forwarded his resignation to Prime Minister Manmohan Singh on Friday evening.
According to sources, Krishna, one of the senior members of the present Cabinet, reportedly indicated that he would like to give Dr Singh a free hand to decide whom he would like to chose as the next foreign minister of the country.


Sources also say that the prime minister could assume responsibilities of the foreign office for a couple of days before deciding on the person he would like in Krishna's place.


Rumours are also doing the rounds that Krishna could be headed back to Karnataka politics, or even be made Governor of some state, given his seniority in politics and in the Congress party.


Minister of State for Telecom Sachin Pilot has said that the Prime Minister will take the final call regarding reallocation of portfolios.
 
"In the cabinet what work one does and who gets included and what kind of responsibility is given -- this is the prerogative of prime minister. It comes under his jurisdiction. It is his discretion to whom to include in his team and what responsibility one has to be given," he said.
 
Congress leader Rashid Masood said it was important to have experienced and young as part of the cabinet.
 
"No country can be governed by youth only. There should be a mix and it is prerogative of the Prime Minister and party. Whatever they will do, it will be for good," said Masood.
 
Reports of an imminent reshuffle gained fresh momentum after Manmohan Singh and UPA chairperson Sonia Gandhi met President Pranab Mukherjee separately recently. 
 
Rumours abound that some young faces could be included in the Cabinet. The names of Manicka Tagore and Meenakshi Natarajan are doing the rounds.
 
Among the young ministers, Sachin Pilot, Jyotiraditya Scindia and Jitin Prasada may get promoted to Cabinet rank or get independent charge as Ministers of State. 
 
The latest reshuffle exercise could see some of the ministers holding charges of two ministries losing one of the portfolios. 
 
With six ministers from the Trinamool Congress leaving, two or three Congress leaders from West Bengal are expected to be accommodated. The names of Deepa Dashmunshi, Adhir Choudhury and West Bengal PCC chief Pradeep Bhatacharjee are doing the rounds.
 
According to television reports, the reshuffle could also involve some ministers caught in controversies like coal minister Sriprakash Jaiswal. Tourism Minister Subodh Kant Sahay may also be dropped. The NCP has already said it will replace its minister Agatha Sangma. She is likely to be replaced with senior leader Tariq Anwar.