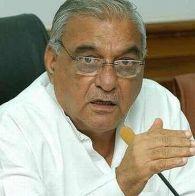 The situation on Monday was tense but under control in Rohtak's Karontha village where three persons were killed and about 100 others in a clash between two groups over an ashram even as Chief Minister Bhupinder Singh Hooda ordered a magisterial probe into the violence.
Around 500 CRPF personnel have been rushed to maintain law and order near Satlok Ashram in Karontha village which witnessed violence on Sunday.
Describing the violence as "unfortunate", Haryana Chief Minister Bhupinder Singh Hooda urged villagers to maintain peace and law and order situation.
He has also ordered a magisterial probe by an additional district magistrate into the matter.
"Situation is tense but under control at Karontha village. Five companies of CRPF have been deputed near Satlok Ashram to maintain law and order. Efforts are being made to sort out the issue. The DGP himself is keeping a close tab on the situation," Rohtak IGP Anil Rao told PTI.
He said the death toll in the violence has climbed to three with another person succumbing to injuries last evening.
The row over possession of Satlok Ashram, headed by Rampal at Karontha village, on Sunday took a violent turn when policemen tried to stop protesting members from Arya Pratinidhi Sabha from marching towards the ashram.
The agitators torched four government vehicles, including three buses of Haryana Roadways and an ambulance, and some motor-bikes near the Ashram on the Rohtak-Jhajjar road. The mob also smashed window panes of several other vehicles.
Tension had been brewing in the area over the Ashram as Arya Samajis claim that the ownership of the dera is illegal and its presence is affecting peace in the region.
The ashram followers had filed a petition before court which in its judgement had ordered to maintain a status quo and asked the authorities to provide safety and security to the dera followers.
The Arya Samajis and villagers in a meeting held recently had announced that they would oppose the functioning of the dera at the present spot and had threatened that they would "fight a decisive battle" against the Ashram.
Director General of Police Haryana, SN Vashisht, is at the spot to take stock of the situation. Senior district and police officials also met village elders this morning and urged them to maintain calm.
The traffic on the Rohtak-Jhajjar Highway remained disrupted.
According to sources, DGP Vashisth had convened a meeting of police officials of Rohtak and Jhajjar districts on Monday morning to chalk out a strategy to defuse the situation.