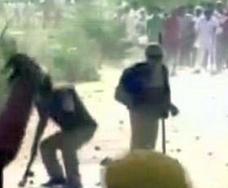 Two persons were killed and several others, including police personnel, were injured when a mob went on rampage, torching several vehicles during a protest over setting up of an ashram at Karontha village near Rohtak on Sunday.
The row over possession of Satlok Ashram, headed by godman Rampal at Karontha village, 10 km from Rohtak, on Sunday took a violent turn when protesting members from Arya Pratinidhi Sabha were prevented by policemen from marching towards the Ashram.
Although a large number of police personnel were deployed around the Ashram (Dera) to avert any untoward incident, they failed to stop the protesters from destroying public property and reaching close to the Ashram premises, where the supporters of Rampal had also gathered.
The agitators consisting hundreds of people torched four government vehicles, including three buses of Haryana Roadways, and some motor-bikes near the Ashram on the Rohtak-Jhajjar road. Inspector General of police Rohtak Range Anil Rao said one person was killed after the two groups clashed with each other.
Several civilians and at least 30 police personnel were also injured, he added. Tension had been brewing in the area over the Ashram as Arya Samajis claim that the ownership of the dera is illegal and its presence is affecting peace in the region.
The ashram followers had filed a petition before a court which in its judgement had ordered to maintain a status quo and asked the authorities to provide safety and security to the dera followers.
The Arya Samajis and villagers in a meeting held recently had announced that they would oppose the functioning of the dera at the present spot and had threatened that they would "fight a decisive battle" against the ashram on May 12.
They had stated that a state-level meeting would be held at Karontha village in protest against the Ashram. When a large number of people today assembled in the village as per the programme and moved towards the ashram, the violence broke out.
Situation was tense around the Ashram till the filing of the news. The police have blocked the Rohtak-Jhajjar road from both sides to prevent any untoward incident.
Image: Video screengrab