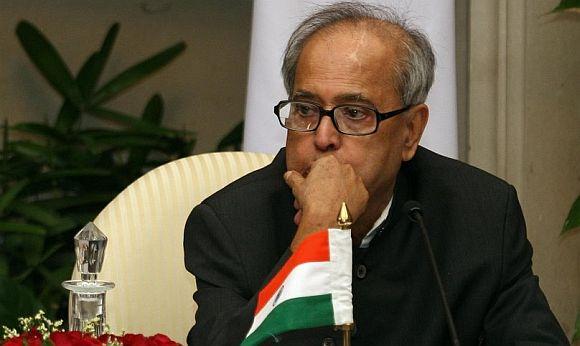 Lamenting that India's higher education institutions are facing problem of quality, President Pranab Mukherjee on Tuesday said the country was far behind China and the United States in terms of innovation and pitched for 'drastic action' to reform the system.
He said quality, affordability and accessibility should be the mainstay of higher education to encourage innovation and research.
"Our institutes of higher education continue to be challenged by problems of quality," Mukherjee said addressing the 10th convocation of National Institute of Technology, Kurukshetra.
He cited an international survey which showed that no Indian university was amongst the top 200 universities in the world. "This calls for drastic action to reform the way education is imparted in our universities and academic institutes," he said.
As per a recent Forbes survey, only three Indian companies have been listed amongst the world's most innovative ones, he said, adding the number will increase if the process of innovation is made a permanent feature in institutions of learning. Talking in terms of innovation, Mukherjee said in 2011, 42,000 patents were filed in India, compared to over five lakh applications filed each in China and the US in the same year.
He pitched for taking the higher education, including technical education, to the doorstep of people by innovations in the delivery system. "Our universities, engineering colleges and research and development centres should be the hotbed of innovation, he said, adding quality, affordability, and accessibility should become the mainstay of the country's higher education system.
Expressing concern over the shortage of faculty across all types of institutes of higher education, the President said existing vacancies should be filled up "quickly".
Asking teachers to update themselves with the latest information in their respective academic fields, he said universities and institutes must encourage and facilitate their teachers' participation in international seminars, refreshers' courses and project work.
Terming lack of adequate flexibility in Indian system as the reason for institution's inablity to retain talent in academic and research positions, he said, "our system must be
geared to discourage any loss of intellectual capital and at the same time welcome overseas scholars including NRIs and Persons of Indian origin to return to the country."
This, he said, will enable transmission of ideas and new methods of teaching and research from abroad to India. "Academia-industry linkages must be strengthened to include industry's perspective in research and to drive market benefits from innovations," he added.
Mukherjee said that in engineering colleges and technical institutes, there is a need to pursue scaling up of research in cutting edge technologies such as nano-technology, biotechnology, embedded system design and technologies for sustainable development like renewable energy.
Commenting on the country's evolving demographic profile, he said two-third of the population is expected to be in working age group by 2025.
"As is well known, India is poised to be an economic power. In terms of purchasing power parity today, the size of our economy is the third largest in the world".
"A growth rate of 8-9 per cent per year has been envisaged during the 12th Five Year Plan period of 2012-17. Such scales of economic expansion need several enabling factors prominent among them being education," he said.
Mukherjee said that over time, India has created an infrastructure of good educational institutions for imparting quality education at all levels and in this context, noted the increase in the number of IITs from seven in 2006-07 to 15 in 2011-12.
"The enrolment to higher education institutions in the country has similarly increased from 1.39 crore in 2006-07 to 2.18 crore in 2011-12 in just five years... the growth rate of enrolment in engineering, which was close to 25 per cent of the total enrolment annually in the 11th Plan period, is the highest for any field of study," he said.
The President also touched upon series of initiatives by the Centre in the 12th Five Year Plan which includes establishment of more Central universities, greater emphasis on technical education and distance learning, academic reforms, interest subsidy on education loans, establishment of innovation universities among others.
He said the 12th Five Year Plan strategy of the Centre gives due emphasis to greater outreach and more opportunities for all sections of our society. "Governance reforms and restructuring is also a priority," he added.
He said India is beginning to emerge as a knowledge economy. "Our pool of qualified manpower will be the backbone of this new age."
Speaking on the occasion, Haryana Chief Minister Bhupinder Singh Hooda said his government was trying to meet the manpower challenge by improving the physical infrastructure required for education.