'My appointment as defence minister sends out a strong message,' said the 58-year-old.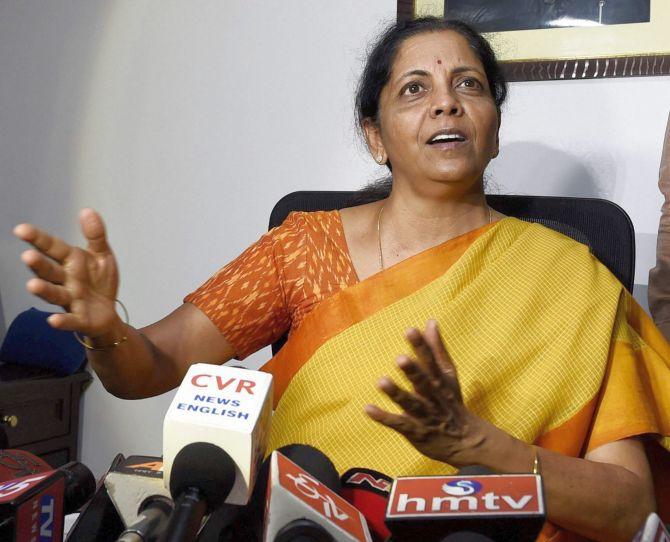 In a big promotion, Nirmala Sitharaman on Sunday became the first woman to become a full-time defence minister of the country as she faced the challenge of speeding up modernisation of the three forces in her new role.
Sitharaman, 58, a Rajya Sabha member, is the second woman to take charge of the crucial ministry as Indira Gandhi, as the prime minister, had also held the portfolio in the '70s.
Her elevation is seen as reward for her good work as the commerce minister. Finance Minister Arun Jaitley was handling the defence ministry after Manohar Parrikar quit to become the Goa's chief minister in March.
Sitharaman will now be a member of the crucial Cabinet Committee on Security whose members include the prime minister, home minister, external affairs minister and the finance minister.
"Somebody who has come from a small town, grown into the party with all the support of the leadership, and if given such responsibility, it just makes you feel sometimes that cosmic grace is there. Otherwise, it is impossible," she told reporters.
Sitharaman said she was just overwhelmed and humbled.
"I am thankful to Prime Minister Modi and Amit Shahji for entrusting me with this responsibility. With this, there are now two women on the Cabinet Committee on Security, that is, Sushma ji and myself. This itself sends out a strong message," Nirmala said.
With regards to her appointment as the defence minister, an elated Sitharaman opined that it is undoubtedly a very big responsibility to be shouldered by her.
"The role given to me is both challenging and interesting. From here onwards, I will have to prove myself and perform to satisfy the expectations of those who assigned me for this role," she said.
Further, Sitharaman stated that she will take charge on September 6, after incumbent Defence Minister Arun Jaitley's return from Tokyo.
"I have had a word with the defence secretary and Arun Jaitley ji. I will take charge, most probably on September 6, after he returns from Japan, where he is visiting in the capacity of India's defence minister. I will speak in detail post taking charge," she said.
"I am sure, now that I have an extremely competent successor in Nirmala Sitharaman, she will carry the road forward," Jaitley said congratulating Sitharaman.
One of the Bharatiya Janata Party's chief spokespersons before its ascent to power, Sitharaman is an alumna of the prestigious Jawaharlal Nehru University.
As the defence minister, Sitharaman will face several challenges, including strengthening of the combat capabilities of the army, navy and the air force due to changing regional security matrix and geo-political dynamics.
Defence experts feel the frequency of incidents of incursions by the Chinese Army may go up in the coming months and years after the Doklam face-off, and Sitharaman may face a challenge in handling such complex issues.
The government has been focusing on domestic defence production and Sitharaman will have to carry forward a number of big-ticket reform initiatives, including implementing the ambitious "strategic partnership" model with several countries like the United States and Russia.
Under the new model, select Indian private firms will be roped in to build military platforms like submarines and fighter jets in India in partnership with foreign defence
majors.
On August 30, the government had announced major reforms in the Indian Army to enhance its combat capability which will include redeployment of nearly 57,000 officers and other ranks. She will have to play a key role in implementing this initiative.
Sitharaman also faces the challenge of modernising the defence research organisations and various other defence public sector undertakings.
Parrikar's tenure as the defence minister saw the clearance of a raft of arms deals, besides simplification of the acquisition process. He had also pushed for a number of stalled acquisition projects.
However, majority of the military modernisation programmes are delayed due to administrative hurdles and various other reasons.
Sitharaman is from Madurai in Tamil Nadu who had obtained a BA degree from Seethalakshmi Ramaswamy College in Tiruchirappalli and an MA degree in economics from the Jawaharlal Nehru University.
-- With inputs from ANI
Image: Nirmala Sitharaman addresses the media at her residence in New Delhi after taking oath as a Union Minister on Sunday. Photograph: Kamal Kishore/PTI Photo