Braving scorching heat, a multitude of sadhus along with their disciples chanting 'Jai Shri Ram' took 'shahi snan' (royal bath) at Ramghat in Shipra river in Madhya Pradesh's Ujjain on Friday on the opening day of the month-long Simhastha-Kumbh mela.
People drawn from different parts of the country and abroad are taking part in the Kumbh mela, one of the largest congregations of Hindus, which for the first time is witnessing the participation of the transgenders, who have put up an Akhara (temporary monastery) and announced to take a holy dip at the Gandharav Ghat of Shipra on May 9.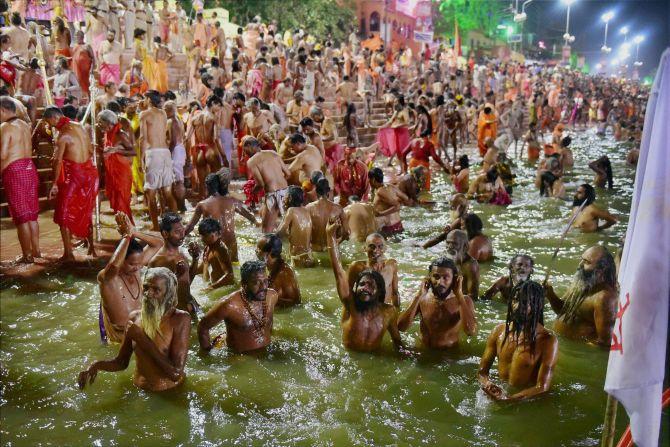 IMAGE: Naga Sadhus take holy dip in Shipra River on the first 'Shahi Snan' during Simhastha Mahakumbh in Ujjain. Photograph: PTI
"I am overwhelmed to be part of this awesome human gathering. I came here since yesterday," George Sauuahq, a Frenchman told PTI.
He said that he has come to India with a group of 12 persons from Paris.
"We made a point to stand witness to this mega event after coming to know about it," he said as he scrambled to shoot photos of the sadhus in different hues and attires at Ramghat.
Wheelchair-bound Tervani Devi (76) and her husband Durga Prasad (82) came to Shipra, that has been revived by pumping in the Narmada water, for the occasion, to take a holy dip, all the way from Hyderabad.
Tervani said that she was delighted after taking the royal bath.
Congress General Secretary Digvijay Singh also took a bath at Gaughat on the opening day of the Simhastha.
At around 8.15 am a stampede like situation was witnessed at Chhoti Pool area at the entrance of Ramghat when large number of seers in processions descended for the royal bath.
However, the situation was brought under control by the authorities swiftly.
Bada Udasin Akhara Pontiff Raghu Muni Maharaj along with others squatted at Ramghat for a while and protested against the vehicular traffic in the mela area.
He said that the vehicular traffic was obstructing seers' way to the ghat. However, he lifted his protest after government officials intervene.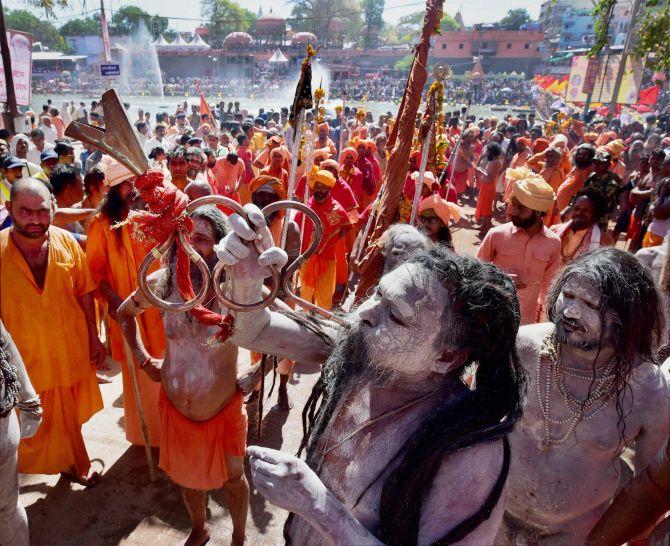 IMAGE: Scores of seers descend on Ujjain to take royal bath at Kumbh. Photograph:PTI
Earlier, the Kumbh mela kicked off with Naga Sadhu of Juna Akhara venturing into the river around 5 am. Their head, Avdheshnandji Maharaj, who came in a huge procession took the 'shahi snan' amid tight security.
"As of now, all things are going on smoothly. Around 25,000 security personnel including central forces have been deployed to conduct the 'shahi snan'," Inspector General of Police, Ujjain, Madhu Kumar told PTI at Ramghat.
Meanwhile, lakhs of people thronged the roads leading to the ghats of Shipra river and waiting in serpentine queues to take the royal bath during the Mela which is being held in Ujjain after a gap of 12 years.
Ujjain is also the abode of Lord Mahakaleshwar, one of the 12 'jyotirlings' in the country.
"Over five crore pilgrims are expected to visit Ujjain and other holy places during the Kumbh, for which elaborate security and logistical arrangements have been made," Madhya Pradesh Chief Minister Shivraj Singh Chouhan had said on Thursday on the eve of the mela at Bhopal.