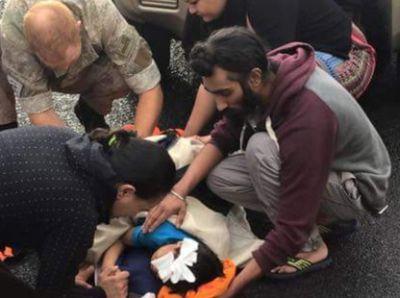 A 22-year-old 'Sikh samaritan' in New Zealand, who made global headlines after he broke religious protocol by removing his turban to help a profusely bleeding child, was on Friday given a top police award for his act of "outstanding compassion and empathy".
Harman Singh has received the district commander's certificate of appreciation at the Counties Manukau police district awards, held at Manukau Institute of Technology.
His "outstanding compassion and empathy" in the situation was to be commended, Counties Manukau Police was quoted as saying by The Stuff Online.
Acting deputy commissioner Grant Nicholls and Hunua MP Andrew Bayly presented Singh and Affleck with their awards.
Singh became famous globally as the 'Sikh samaritan' after he removed his turban, which Sikh men must wear in public at all times, to stop the blood flowing from a 6-year-old boy's head, it reported.
Daejon Pahia was walking to school with his mother, was hit by a car nearby on May 15.
"You immediately came to his assistance and provided first aid and comfort to Daejon and his mother," the citation read.
"I was overwhelmed when I received the email inviting me to the awards ceremony. I'm a shy guy, but it's nice. I'm so happy," Singh said.
Singh said his relatives back in India were very proud to hear he was receiving the award.
And he said he would not hesitate to act if ever in a similar situation.
"If something else happens, I have the maturity and I can do the same thing," he added.