After the announcement of their names as the new chief minister and deputy chief minister of Karnataka respectively on Thursday, Siddaramaiah and D K Shivakumar have both expressed their commitment to work unitedly for the welfare of the people of the state.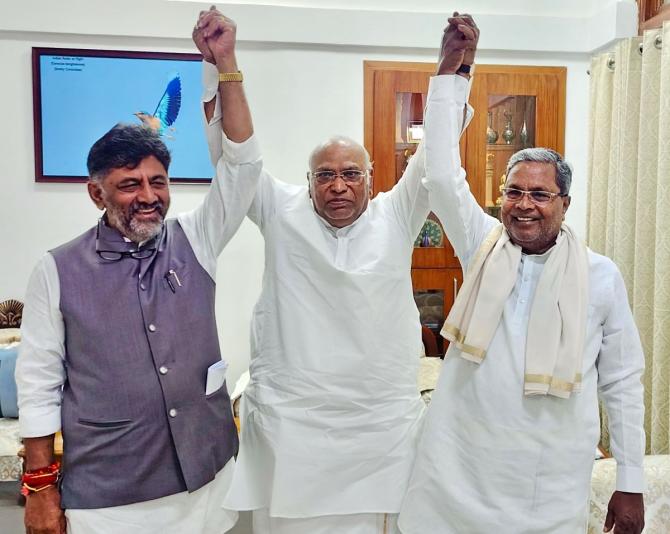 Ending days of suspense, the Congress on Thursday announced Siddaramaiah as the next chief minister of Karnataka and D K Shivakumar as his only deputy in the soon-to-formed cabinet.
'Our hands will always be united to protect the interests of Kannadigas. The Congress party will work as a family to deliver a pro-people, transparent, corruption-free governance and fulfill all our guarantees,' Siddaramaiah said in a tweet with a picture of All India Congress Committee president Mallikarjun Kharge raising his and Shivakumar's hand in a show of unity.
Shivakumar, who is also the state Congress president, tweeting the same picture said, 'Karnataka's secure future and our people's welfare is our top priority, and we are united in guaranteeing that.'
The two leaders, who were in a tight race for the top post, would take oath along with other ministers on May 20.
Hectic parleys were held on for the last couple of days to break the deadlock in deciding on the Congress's chief ministerial pick in Karnataka, with both the hopefuls -- Siddaramaiah and Shivakumar -- presenting their cases before the top brass.
In the May 10 elections to the 224-member assembly, the Congress scored an emphatic victory by bagging 135 seats, while the ruling Bharatiya Janata Party and the former prime minister H D Deve Gowda-led Janata Dal-Secular secured 66 and 19 seats respectively.