'Siddaramaiah was openly taking on the BJP's communal agenda, which very few politicians do.'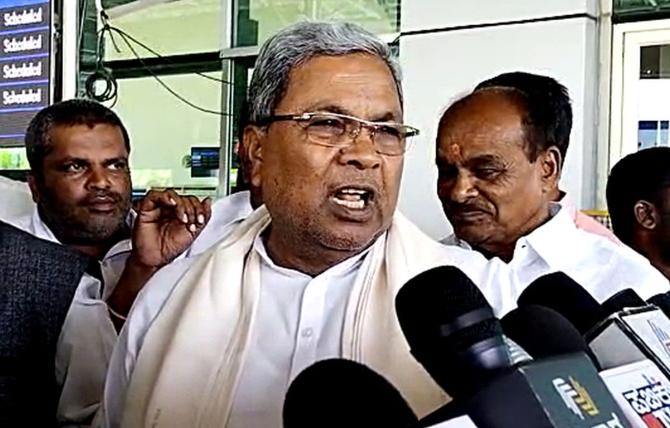 The nation is still stunned two days after the Congress swept the Karnataka assembly elections.
More so because Prime Minister Narendra D Modi had gone on an election blitzkrieg in the state for two weeks and yet the Bharatiya Janata Party was voted out of power.
Though in terms of vote share the BJP did not do that badly, in politics there is no silver medal. The winner takes it all.
And in this case it was the Congress that has staged a spectacular win, banishing the BJP from the only southern state it was in power.
Syed Firdaus Ashraf/Rediff.com spoke to Narendra Pani, professor at the National Institute of Advanced Studies, to know more about the election result and its ramifications.
Why you think the Congress won Karnataka with such a large number of seats?
The main factor going for them was, there was definitely distress on the ground.
There was a certain inequality that has emerged in Karnataka where IT-led growth is restricted to Bengaluru city and has not spread to the rest of the state. This distress was reflected in the results.
There were pockets where you could overcome distress with other agenda like religious conflict, but even that may have reached a point of fatigue. Because, in coastal Karnataka which is the base of the Rashtriya Swayamsevak Sangh, the BJP did not do well as compared to 2018.
They were dominant in the 2018 elections in this region, but this time they were not as they got fewer seats.
In Bengaluru, the Congress won a decent number of seats, isn't it?
Yes, but the BJP did much better than the Congress.
You could find local reasons for it like selection of candidates, but I think there is a factor that IT-led growth strategy where Bengaluru contributes a third (of its share) in the economy of Karnataka. The BJP did well here, but not in the rest of the state.
This happened earlier too, during the time of S M Krishna when the Congress lost as they did well in Bengaluru, but not in other places.
The BJP is saying they did not do badly as they got 37 percent plus votes which was not bad, and that the Congress got 43 plus percent votes as they got Janata Dal-Secular votes too. Is there some truth in it?
The BJP has made some gains in JD-S votes in Old Mysore.
In the last elections the BJP got lesser votes than the Congress, but it was able to get significantly more seats as its vote was concentrated in the coastal belt and northern Karnataka.
This time it made limited inroads in Old Mysore, but it was not enough to get the seats. It was able to get more vote share, but it lost the ability to convert its vote share into more seats.
Did Siddaramaiah's consolidation of Ahinda votes contribute to the Congress victory as the OBCs, Dalits and Muslims voted en bloc for the Congress while the BJP's votes were mainly restricted to upper caste Hindus?
That was always Siddaramaiah's politics all about earlier too. He joined hands with D K Shivakumar and that gave an added advantage.
It is Siddaramaiah's politics that has won the Karnataka assembly elections for Congress.
In his campaign also he was openly taking on the BJP's communal agenda, which very few politicians do.
He openly took it on in rural constituencies and that has paid off.
It may not be fashionable to say so, but there may be a fatigue of continuous communal conflict.
You mean Siddaramaiah's statements like he eats beef?
Not that statement alone, he directly attacked the BJP on banning the hijab in Karnataka schools and colleges.
There is an interesting clip on social media where you will see he is directly attacking the BJP on hijab, halal, Muslims having shops near Hindu temples and fairs. He made it an election issue.
The Congress goes for soft Hindutva these days which is very contradictory to what Jawaharlal Nehru had said, that majority communalism is more dangerous to India than minority communalism. In retrospect, is this the way to take on the BJP in other states too?
At some level the fact is at least in Karnataka, Siddarmaiah has made a case for speaking out openly.
On the hijab ban issue he spoke openly about it though others (in the Congress) were telling him that he should backpedal, but he insisted.
He was told he was falling into the BJP's trap by speaking out, but he insisted on speaking out.
He said we must have a voice in our party on this issue.
I have no idea whether this would work in other states, but we have to give Siddaramaiah some credit for speaking out on this issue.
Siddaramaiah had the courage to go out and speak when others were telling him not to speak openly about these issues.
And then, of course, the Congress high command too went ahead and put the Bajrang Dal ban in the manifesto. Again, I will tell, though this was not the only factor resulting in the Congress victory.
Didn't the Congress go on the backfoot after the BJP made Bajrang Bali an election issue?
Nobody went on the backfoot.
I feel putting it in the election manifesto, about banning the Bajrang Dal, had a dual purpose.
The first purpose was that the Congress will not be wishy-washy on communal issues and secondly, to push the BJP into their communal agenda further.
It kept the BJP away from competing on the welfare measures the Congress was offering to voters.
The BJP offered nothing compared to the five Congress guarantees.
They ensured that the BJP got into the Bajrang Dal mode till the last day of the election and not come out of it and concentrate on development issues.
But it is only in retrospect that we can say such things because the Congress has won. Had they lost, the same people would have said the Congress was foolish enough to mention banning Bajrang Dal in its manifesto.
Exactly. That is the nature of any leadership.
You make an assessment and you take a call. Sometimes you are successful and sometimes you are not.
When you don't succeed, you admit it did not work.
It is not restricted to politics alone, but to trade unions, media leadership, which is that you make an assessment and how far you can go with your values.
And after decades of running off, somebody is willing to stand up (Siddaramaiah against the BJP's communal politics).
The contractor who committed suicide after claiming that 40 percent cut had to be given to BJP leaders -- did this affect the BJP's poll prospects as the Congress was highlighting corruption regularly?
Corruption was definitely an issue. I don't know whether it was about buying MLAs or not, but Karnataka has a history of corruption, but this time they crossed the boundaries.
What about Lingayat votes? People say the Congress did get them, but Mr Jagadish Shettar, who left the BJP to join the Congress, lost badly, isn't it?
Shettar may have influenced 20-25 seats beyond his constituency.
The Congress did very well in terms of Lingayat votes.
I think they put up some 45 candidates and 37 of them won. They have done extremely well.
People like Shettar, you cannot judge them within their own constituency as they have wider appeal in other constituencies.
What about Modi? He campaigned extensively in Karnataka, but still his party lost. Will this have ramifications in the general elections of 2024 in Karnataka?
It is too early to speak on that.
He made it into a campaign about himself, but this was essentially a state election. Therefore, there was a disconnect (with voters).
This election may have laid a foundation, though, for the 2024 general elections.