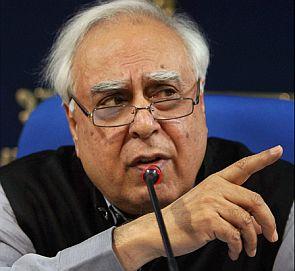 Trashing Arun Jaitley's contention that government's action on snoopgate probe were illegitimate, Law Minister Kapil Sibal on Saturday said he "should go back to law" before making such statements and insisted that a judge to head the inqury will be named before May 16.
Defending the Centre's move, the minister asked why it was being questioned when Narendra Modi government had itself set up a probe panel into the issue showing that there was something to be investigated.
He also pointed out that the state government's probe panel, which was supposed to give its report within three months, has not held a single meeting till date.
"A judge (to head the inquiry) will be in place before May 16......Jaitley has got cut off from law for a long time. He should go back to law and see this little more carefully before making any such statements," Sibal told reporters at the AICC headquarters.
"If he takes a little time to understand, he will realise this is legally not possible," Sibal said when asked if Jaitley's remarks showed that in the event of BJP winning, the next government will wind up the probe panel.
Both Sibal and Jaitley have been senior advocates of the Supreme Court.
Jaitley had said that all the judges approached by the Congress-led United Progressive Alliance (UPA) government had refused to be a part of the "desperate" exercise and "political and malafide" move which would be an "illegitimate" action on the part of government.
"And if the government still goes ahead, it will be within the jurisdiction of the next government to consider them as improper," he had said.
Dismissing BJP's criticism, Sibal said, "When the state sets up a probe panel, it is fine. But when the Centre sets it up, then it becomes vindictive. What is this logic?"
He stressed that "communication" is a central subject and snooping had been done in more than one state beyond Gujarat.
The law minister wondered as to how can a probe panel set up by the state government headed by Modi investigate charges against him.
He also made light of the terms of reference of the state probe panel saying they were at variance with BJP's statements which do not rule out the fact that snooping was done.
"Their real face has got exposed in the Snoopgate issue also. They set up a probe panel in the state fearing that the Centre may appoint an inquiry which could bring out facts that could create trouble for him (Modi)," Sibal said.
It was alleged that illegal surveillance was carried out on a young woman in Gujarat in 2009 at the behest of Gujarat Chief Minister Narendra Modi and Amit Shah was the Home Minister of the state at that time.