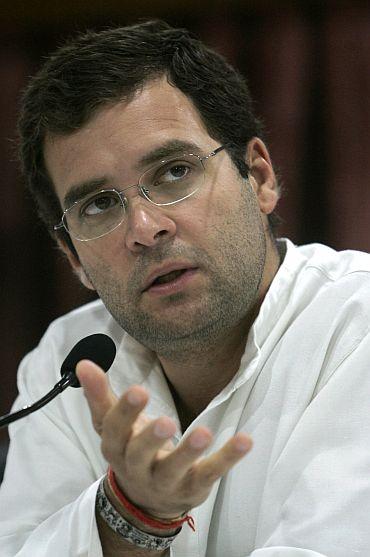 Attacking the Bharatiya Janata Party and Narendra Modi over election expenditure, Rahul Gandhi on Saturday alleged that corporates were pumping money into the saffron party's campaign and asked it come clean on the source of funds.
"They (BJP) do politics of two-three corporates as they gift them 'mota paisa' (hefty money). From where is the money for big cutouts and posters coming," Gandhi, who arrived in his constituency Amethi for a two-day campaign, said at an election rally.
He alleged that Modi gave nearly Rs 26,000 crore of electricity and Rs 15,000 crore of land to one industrialist which is much more than Rs 30,000 crore that Congress gave to poor through MNREGA in a year.
"Please ask BJP where do they get crores of rupees for such posters. Is it Modi's money?.... They ask us why we give free money to poor through MNREGA, food guarantee scheme. Poor does not get free money. They work for it whereas free funds are given to Adani," he said.
"I am not against corporates. But they should be given facilities following rules and regulations. In Gujarat, it was Adani who is getting facilities and not the poor", Gandhi added.
Describing the elections as a fight between two ideologies, Gandhi said that while Congress wanted to take Hindus, Muslims, Sikhs and Christians along, the other side was stoking politics of "anger".
"Their (BJP) leaders used to criticise, abuse and keep poor at bay while we (Congress) talk of unity and to take country forward," Gandhi said.
"The difference it that they want to keep the ATM with themselves, while we want to give the ATM to the poor", he added.
"They want to create a divide between Hindus and Muslims and want to see them fighting. They want brother to fight against brother, unlike us", he said.
Hitting out at his opponents, Aam Aadmi Party's Kumar Vishwas and BJP's Smriti Irani, Gandhi said they would run away from Amethi after elections.
Without taking the names of rival candidates, he said the people who come from outside are angry at the relations that Gandhi family shares with the people of Amethi.
"Let Congress form the government at the centre, I will show them what can be done in Amethi....People who come from outside can say whatever they like but Gandhi family shares a relation of love with people of Amethi. They will not be seen once elections are over," he said.
"Those who are contesting (against me) will run away after election. I have family relations with Amethi. I came here at the age of 12 years with my father (Rajiv Gandhi). I don't have political relation with this place," Gandhi said striking an emotional chord.
"Some persons come here, tear posters, throw stones, abuse and return. They did not come here for next five years. I am here for my lifetime," Gandhi said.
In a veiled reference to snoopgate, Gandhi said, "Some posters of Modi say women will be empowered under his government. Don't women have power? They already have power, give them respect and rest they will do themselves."
The Amethi Parliamentary seat, which is the pocketborough of Gandhi family, will go to polls on May 7 and the campaigning will come to an end on May 5 when the BJP prime ministerial candidate is scheduled to campaign for Irani.
Gandhi said while Congress stands for the politics of cohesiveness, BJP is dividing people on the religious lines.
"We have given food security programme under which poor people can get food grains at Rs one per kg. The Uttar Pradesh government is yet to implement it but they will have to do it," the Congress vice-president said.
He said it is the opposition which had challenged assured 24-hour electricity supply to Rai Bareli and Amethi in the court. "It shows that they have no love for you," he said.
Gandhi said Modi has given 45,000 acres of fertile land to Adani.
"Farmers' come to us for and complain that their land has been taken. Sikh farmers came to us and said their land has been taken and they were asked to leave the place as they did not belong to Gujarat," he said.
Gandhi said Congress was not against the industrialist but there should be a partnership between them and farmers.
"We are building an industrial corridoor from New Delhi to Kolkata where industrialists will be given lands to develop manufacturing hub. But this should be based on a partnership with farmers and poor people so that they can also grow," he said.