After the party's near washout in assembly polls, the demand for a overhaul is growing with spokesman Abhishek Singhvi arguing for younger state leaders, reports Kavita Chowdhury.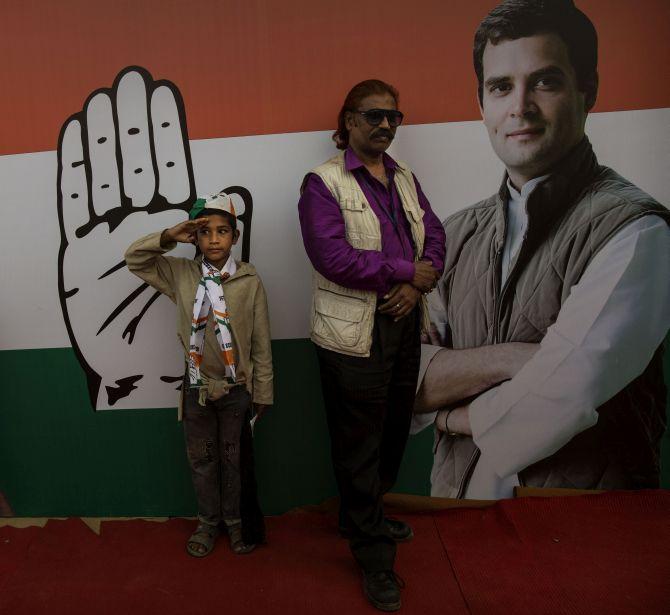 Under a tide of criticism over its abysmal performance in the recent assembly polls, the Congress party is being unusually tolerant to critical voices from within.
Senior leader Digvijay Singh had called for "major surgery". On Monday, senior spokesperson and lawyer Abhishek Manu Singhvi tweeted a prescription for revamping the party -- "New younger state faces, three to six months prior declaration of candidates before elections, new All India Congress Committee general secretaries."
Adding that "usual faces should be shunted to advisory roles". This would imply sidelining the old guard and bringing in younger faces, with Congress vice-president Rahul Gandhi slated to take over as party chief in the next few days.

As if to thwart the finger pointing at Rahul Gandhi and calls for change of apex leadership, Singhvi tweeted, "Surgery never about unifocal look at leadership. Includes specifics -- three and six month prior declaration of MLA/MP candidates; new younger state faces, eg Pilot in Rajasthan; new general secretaries; new Congress Working Committee; micro management; 50 per cent pure merit and 50 per cent region, caste etc; shunt usual faces/ names to advisory roles."

That Singhvi has called for a new Congress Working Committee, is significant, since it would require a purging of those around for decades. His mentioning Sachin Pilot who was picked by Rahul Gandhi to lead the party in Rajasthan as one of the new state faces as an example to be emulated stokes the perennial debate within the Congress of the generational change within the party.

It is interesting that the Congress which earlier condemned any voice that was critical of the party is now allowing "constructive criticism".
Lok Sabha member Shashi Tharoor met party chief Sonia Gandhi on Monday and then willingly spoke to the media. Having extensively toured the state, Tharoor gave his feedback on the Congress-led coalition's performance in Kerala. "Having had a serious 50-minute discussion with the party president, I don't want to discuss the content of what we said but it is very clear that the party leadership takes extremely seriously the election results and has determination to move forward with constructive and positive action," he said.

To dispel the impression that the leadership was stuck in a time warp and was stalling action, Tharoor asserted, "I am very struck by the determination of the leadership to confront the challenges facing the party and to overcome it."