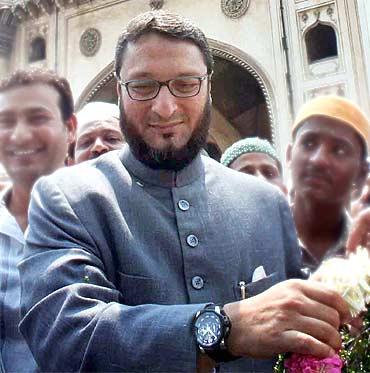 All India Majlis-e-Ittehad-ul Muslimeen chief Asaduddin Owaisi has questioned those responsible for killing people during riots should get death penalty.
The Hyderabad Lok Sabha MP has alleged that the then Narendra Modi government in Gujarat had asked the prosecution not to press for death sentence to former minister Mayaben Kodnani and Bajrang Dal leader Babu Bajrangi, convicted in 2002 post-Godhra riot case.
"Kodnani and Babu Bajrangi were convicted by a court, which sentenced them to life imprisonment in connection with the killing of 92 persons. The prosecution wanted capital punishment. But Modi, who was then Gujarat chief minister, asked prosecution not to appeal against the ruling (in HC) and let the punishment be life sentence," the AIMIM leader alleged.
"Shouldn't those who killed 92 persons get death sentence?... when should capital punishment be awarded?" the 46-year-old controversial politician asked.
He was addressing a public meeting on the occasion of 7th death anniversary of Sultan Salahuddin Owaisi, a former president, AIMIM.
In August 2012, a court in Gujarat had awarded life term to Kodnani, a former Bharatiya Janata Party minister and Bajrangi in the Naroda-Patiya massacre case.
During his speech, Asaduddin, who had recently suggested that 1993 Mumbai blasts convict Yakub Memon was awarded capital punishment because of his religion, read out a media report against the death penalty.
"Is it not true that Punjab Chief Minister Parkash Singh Badal had met then President Pratibha Patil with a mercy petition seeking clemency for Rajoana (assassin of former Punjab Chief Minister Beant Singh)?" he said.
Asaduddin challenged the BJP, which shares power in Punjab with Shiromani Akali Dal, to hang the killers of Beant Singh.
"If you have zero tolerance towards terrorism then prove it. I am challenging BJP to demand that the killers of Beant Singh be hanged...but they will not do so," he said.
The AIMIM leader said Babri Masjid was demolished in 1992 but that case is still dragging on.
Senior BJP leader L K Advani is an accused in the Babri case, but he has been honoured with Padma Vibhushan, he said, adding if there is a case against him he will be treated differently.
"If there is a criminal case on me, I will not get passport...is this justice?," he asked.
"Babri Masjid is a matter of getting justice. Gujarat riots and massacre of Sikhs in 1984 in Delhi are also issues related to getting justice," the AIMIM leader said.
On Babri Masjid issue, he said "we will abide by the Supreme Court order."
The apex court earlier this year had sought responses from senior BJP leader L K Advani and others on a plea against dropping of criminal conspiracy charge against them in the Babri mosque demolition case.