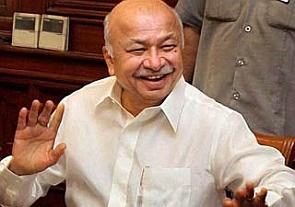 Union Home Minister Sushil Kumar Shinde on Friday hailed as exemplary the death sentence awarded to four convicts in the Delhi gang rape case, saying the victim and her family have got justice.
"This was the rarest of rare crime. Damini and her family have got justice. I welcome the court ruling," Shinde told reporters.
"The nyay devta (god of justice) has set a new example for such culprits that if you commit such a heinous crime, then you will get a stringent punishment," the minister said.
Shinde was speaking after the four convicts -- Akshay Thakur, Vinay Sharma, Mukesh Singh and Pawan Gupta -- in the December 16, 2012 gang rape and murder of a 23-year-old physiotherapy student inside a private bus in Delhi were sentenced to death by the Saket fast track trial court.
"There was an atmosphere in the country after this incident. We expected such a punishment," he said.
Apparently referring to Defence Counsel A P Singh's claim that the verdict was delivered under political pressure, Shinde said, "The judiciary follows the law and not political pressure.
Shinde referred to the new legislation based on the Justice Verma Committee report which recommended amendments to the criminal law so as to provide for quicker trial and enhanced punishment for criminals accused of sexual assault against women. The panel headed by former Chief Justice of India J S Verma was formed in the wake of the shocking Delhi gang rape.
"The new law has provision for hanging in rarest of rare cases," he said.
"We took note of the lacunae in police. We have made provisions for appointing a woman police officer in each police station to enable women victims to lodge a FIR," Shinde said.
"Women feel confident to register the complaint when there is a woman officer," he said.
On the Shakti Mills gang rape case in Mumbai, the minister said, "I am quite confident that the state government will also expedite the case. (But) There is no need to pressurise any state government."
Chief Minister Prithviraj Chavan also welcomed the Saket court verdict, saying, "Nobody will dare commit such a heinous crime in the future".
To a query on the mercy pleas of those on death row, Shinde said, "St the moment, not a single case is pending with the home ministry, all of them have been decided. But unfortunately, they have been held up in courts."