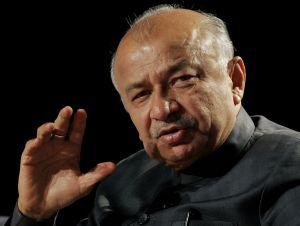 Union Home Minister Shri Sushil Kumar Shinde continued with his official visit in the United States, meeting senior US government leaders including Secretary for Homeland Security Janet Napolitano, Attorney General Eric Holder and FBI Director Robert Muller.

Shinde and Secretary Napolitano convened the second round of the Homeland Security Dialogue on Tuesday, which last met in New Delhi in May 2011. The two leaders emphasised that cooperation between India and the United States in securing the two nations was a key pillar of the India-US global strategic partnership.
They recognised that such cooperation was imperative, in view of commonality of the threats that confront the two countries. They welcomed progress made over the recent past in developing practical steps to enhance the security of the citizens of the two countries, and to prevent the misuse of increasingly-interconnected global financial, transportation and communication systems.
They agreed to enhance cooperation in capacity building programmes and to identify technologies and equipment which may be useful for Indian law enforcement agencies to source in the United States, a media statement said.

The outcomes of these meetings and the overall strategic perspective within which this dialogue took place were outlined in the joint communique released by Shinde and Napolitano after their meeting.
On Tuesday afternoon, Shinde held a meeting with Attorney General Eric Holder. The two leaders recognised the compelling reasons for closer cooperation between India and the United States based on the larger strategic objective underlined by US President Barack Obama and Prime Minister Manmohan Singh during the president's state visit to India in November 2010.
Shinde and Holder agreed that the Indian Ministry of Home Affairs and the US Department of Justice should work together institutionally, so as to ensure the best possible outcomes within the laws of the two countries, to address pending issues relating to extradition, execution of letters rogatory and red corner notices, as well as other areas of cooperation in law enforcement, counter terrorism and judicial processes.

In the home minister's meeting with Federal Bureau of Investigation Director Muller, the two sides reviewed areas of cooperation and issues of interest. The FBI and Indian agencies have remained in close contact, and it was agreed that the process of inter-agency cooperation would be developed further, in this context.

After the completion of his official meetings, Shinde and senior members of his delegation left for a day-visit to Boston, during which he is expected to have a detailed briefing of the investigations that resulted in the successful investigation of the April 15 Boston Marathon bombing.

Indian delegation will depart for India on Thursday.
Image: Union Home Minister Sushilkumar Shinde
Photograph: Remo Casilli/Reuters