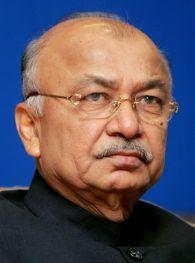 The United States and India Tuesday asked the international community to take effective steps towards eliminating sanctuaries and infrastructure that support terrorism.
After talks between visiting Home Minister Sushilkumar Shinde and US Secretary of Homeland Security Janet Napolitano, a joint communique said the two countries also agreed to enhance bilateral co-operation to combat terror financing and currency counterfeiting.
The communique, issued after Napolitano and Shinde co-chaired the second US-India Homeland Security Dialogue in Washington, DC, said the two leaders "asked all nations to take effective steps to work toward eliminating sanctuaries and infrastructure that supports terrorism and to increase efforts to counter violent extremism".
"They reaffirmed the commitment to, and importance of, bilateral homeland security cooperation between the US and India on common challenges faced such as terrorism, and countering violent extremism", it said.
The two countries affirmed their commitment to enhancing bilateral cooperation to ensure mutual security through collaboration of law enforcement agencies and to work closely in countering terrorism by combating flow of illicit finances and currency counterfeiting and promoting cyber security.
Napolitano and Shinde decided to increase engagement on varied aspects of homeland security such as megacities policing; combating illicit finance, bulk cash smuggling, and counterfeiting; cyber security and critical infrastructure protection; port, border, maritime, transportation and supply chain security; science and technology cooperation; and capacity building.
The communique said that the US and India will explore areas in which to share best practices and lessons learned by both countries on how to enhance the ability of federal, state and local police to better detect, prevent and respond to acts of violent extremism, including a focus on how the internet is used to recruit or facilitate these types of attacks.
Napolitano and Shinde also endorsed pursuing a robust, bilaterally-developed schedule of events and collaborative activities with the goal of meeting the security needs of both countries.
The US and India also agreed to enhance cyber security and critical infrastructure protection engagement.
The two sides decided to hold a series of training courses on countering illicit financing through Department of Homeland Security's Cross Border Financial Investigations Training Programme.
They also decided to work together on science and technology development and its application in the homeland security context.
The dialogue on homeland security between the two countries was initiated after US President Barack Obama's visit to India in November 2010.
Read the joint-communique on US-India strategic dialogue on homeland security here (external link)
Image: Union Home Minister Sushilkumar Shinde co-chaired the second US-India Homeland Security Dialogue in Washington, DC with his US counterpart Janet Napolitano.
Photograph: Reuters