The Lingayat community will be appeased if the next chief minister is also a Lingayat.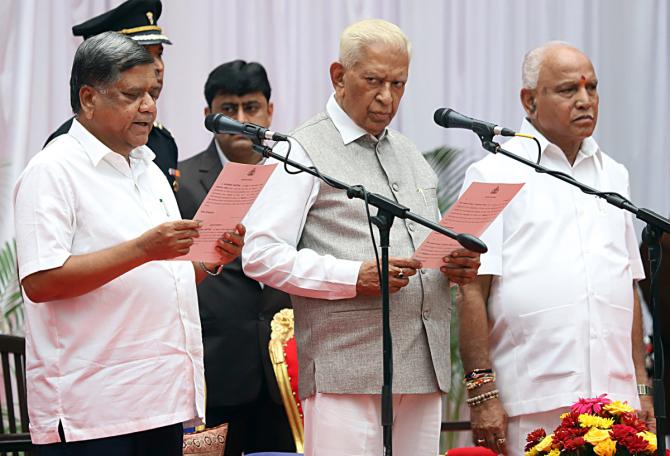 Shamanur Shivasankarappa, president of the All India Veerashaiva Mahasabha, who was among the Lingayat seers who met outgoing Karnataka Chief Minister B S Yediyurappa on July 21 in a show of support, feels that Jagadish Shettar, outgoing large and small-scale industries minister in the BSY Cabinet, will be the best replacement for BSY.
"They need a senior leader, an experienced leader, also with an RSS (Rashtriya Swayamsevak Sangh) background. Shettar will be the best option, he was chief minister in 2012-2013," Shivasanarappa, a prominent Lingayat leader, tells A Ganesh Nadar/Rediff.com.
Speculation about his successor has been rife since Monday after Yediyurappa decided to step down as chief minister.
With the Lingayats, who account for 16% of the electorate in Karnataka, backing Yediyurappa, all eyes are on who the Bharatiya Janata Party leadership will nominate to succeed 78-year-old BSY.
While the Lingayat seers' show of support did not seem to have influenced the BJP high command which accepted Yediyurappa's 'voluntary resignation', the party cannot afford to ignore the murmurs of dissatisfaction from the politically strong community.
"The BJP at the Centre will decide who the next chief minister of Karnataka will be, last week a thousand swamis congregated in Bengaluru to support Yediyurappa. I too support him whole-heartedly, but the BJP did not pay heed to us," Shivasankarappa says.
The Lingayats, he adds, are upset with the BJP as the party did not assign any reason for getting Yediyurappa to resign.
The community, Shivasankarappa says, would be appeased if the next chief minister is also a Lingayat, clearly indicating his preference for Shettar.