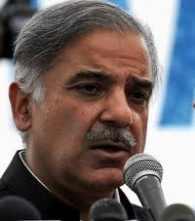 The Pakistan Muslim League-N will retain Shahbaz Sharif as chief minister of Punjab for a record fourth term, after briefly toying with the idea of giving him a slot in the federal government.
Shahbaz, 61, the younger brother of PML-N chief Nawaz Sharif, is widely credited for successfully implementing several development programmes during his last tenure, including a metro bus mass transit system in the provincial capital of Lahore that transports over 100,000 people every day.
The PML-N has bagged 212 of the 297 directly elected seats in the Punjab assembly in the May 11 polls and is comfortably placed to form the government in Pakistan's politically crucial and most populous province.
This time round, Punjab will have a very weak opposition as both the Pakistan People's Party and Imran Khan's Pakistan Tehrik-e-Insaf fared poorly in the province.
PML-N insiders had earlier hinted that Shahbaz could be made Power Minister in the federal government to tackle Pakistan's energy crisis.
Chaudhry Nisar Ali Khan, a PML-N stalwart, was reported to be in the race for the chief minister's slot and he even contested for two seats in the Punjab assembly as a party candidate and as an independent.
Khan won both the provincial seats but is now expected to give them up as he has also been elected to the national assembly.
Shahbaz's son Hamza Shahbaz too was considered for the post of chief minister before the PML-N's top leadership decided to stick with his father, sources said.
One PML-N insider, who did not want to be named, said Nawaz Sharif could not take chances by handing over the affairs of Punjab to someone outside the family. Besides, the rising popularity of Pakistan Tehrik-e-Insaf has forced the party to continue with Shahbaz as chief minister as he would ensure the PML-N does not lose any ground to Imran Khan's party, the insider said.