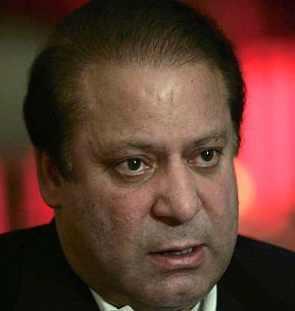 Pakistan Muslim League-Nawaz chief Nawaz Sharif, who is set to form Pakistan's new government after an emphatic win, on Monday said he would be "very happy" to invite Indian Prime Minister Manmohan Singh to his swearing-in for a record third term as premier.
"I will be very happy to extend that invitation. If they will come, it will be a great pleasure for me and for Pakistan," Sharif said during an interaction with a group of foreign journalists at his home in Lahore on Monday afternoon.
Sharif was responding to a question if he would invite Singh to his swearing-in ceremony. When again asked if he intended to invite Singh, Sharif replied, "I had a call from him (Singh) on Sunday. We had a long chat on the phone and then he extended an invitation to me and I extended an invitation to him. He originally belongs to a district in Pakistan".
Singh's ancestral hometown is Gah in the Punjabprovince of Pakistan.
He added: "We will be very happy to invite him, whether he will come or not is a different issue but I hope that he will visit Pakistan soon".
Sharif said it would be an honour if Singh was present at the swearing-in. He further said he hoped to meet the Indian prime minister as soon as possible as he was keen on forging good relations between the two countries.
The PML-N chief had earlier said he is keen on resuming the India-Pakistan peace process that was interrupted in 1999 by then army chief Pervez Musharraf, who ousted Sharif's government in a military coup.
"We'll pick the threads where we left. We want to move toward better relations with India, to resolve the remaining issues through peaceful means, including that of Kashmir," Sharif said.
Singh had on Sunday lost no time in congratulating Sharif on his election victory and invited him to visit India.
In an unusually quick response even as counting of votes was underway in Pakistan, Singh conveyed India's desire to work with him to chart a new course in bilateral relations.

In a letter in which he addressed Sharif as "Dear Mian Saheb", Singh said, "I look forward to working with you and your government to chart a new course and pursue a new destiny in the relations between our countries. I would also like to extend an invitation to you to visit India at a mutually convenient time."