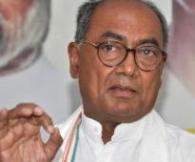 Sparking yet another controversy, Congress general secretary called Meenakshi Natarajan, a close aide of Rahul Gandhi and Mandsaur MP, "sau taka tunch maal".

Addressing a rally in Mandsaur, Madhya Pradesh, Singh said, "She is your member of Parliament. She is a Gandhian, she is simple and honest...she goes to everybody, from village to village. I have 40-42 years of experience (in politics) and I am an old connoisseur...politicians come to understand things even with little hint as to who is genuine and who is a fraud. She is 100 per cent tunch maal and fights for the poor."
"...she doesn't get into groups (within the party) in Mandsaur, she takes everybody along. She has made a mark in Delhi as well, inside the Lok Sabha and within the party. Soniaji and Rahulji hold her in high esteem," she said.
Singh added that he knew this because "main purana johari hoon" (I am an experienced jeweller).
However, Natrajan took no offence to Digvijay's remarks. "His statement has to be looked in complete perspective. He has appreciated my work. I am not offended with Digvijaya Singh's statement."

As the opposition targeted Digvijay's 'sexist' remark, the Congress general secretary said that he will file a defamation case against channels who misinterpreted his statement. "I saw the statement on channels. I am going to file a defamation suit against all those channels that have shown this."
Congress leader Renuka Chowdhury defended her party colleague's description of Natarajan "as a compliment" in the context in which it was said. "If you are saying that he has said it in a context of praise, then it must be looked upon as a compliment. When you are reporting, you must also see in what context a statement is being made. When statements are made in local constituencies, the local context is very different from that which is interpreted differently outside that context," she said.