Delhi recorded a cold wave for the second consecutive day on Friday, with the minimum temperature at Ayanagar in southwest Delhi plunging to a numbing 1.8 degrees Celsius.
Haryana, Punjab and Rajasthan also continued to grapple with the cold conditions while there was some respite in Kashmir as the minimum temperature improved slightly even as the Valley braces for a possible wet weather spell from Saturday.
The Safdarjung Observatory, Delhi's primary weather station, logged a minimum temperature of four degrees Celsius, which was lower than that of Dalhousie (8.7 degrees Celsius), Dharamsala (5.4 degrees), Shimla (6.2 degrees), Dehradun (4.4 degrees), Mussoorie (6.4 degrees) and Nainital (6.5 degrees).
A dense layer of fog persisted over northwest India, and adjoining central and eastern parts of the country, hitting road, rail and air traffic movement.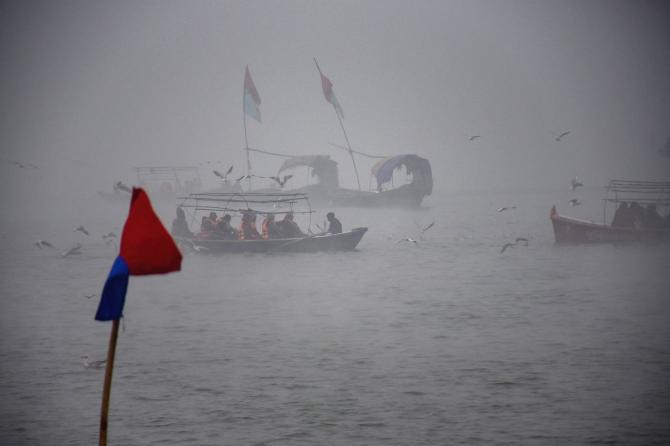 Bad weather conditions delayed around 30 flights at the Indira Gandhi International Airport and at least 26 trains reaching Delhi, officials said.
The Palam observatory, near the IGI Airport, recorded a visibility level of 200 metres at 5.30 am.
According to the weather office, 'very dense' fog is when visibility is between 0 and 50 metres, 51 and 200 metres is 'dense', 201 and 500 metres 'moderate', and 501 and 1,000 metres 'shallow'.
The weather stations at Lodhi Road, Ayanagar and Ridge in Delhi recorded minimum temperatures of 3.8 degrees Celsius, 1.8 degrees and 3.3 degrees, respectively.
According to the Met department's weather report, Narnaul was the coldest place in Haryana, recording a minimum temperature of 2.5 degrees Celsius. In Punjab, Balachaur recorded a low of 3.5 degrees Celsius.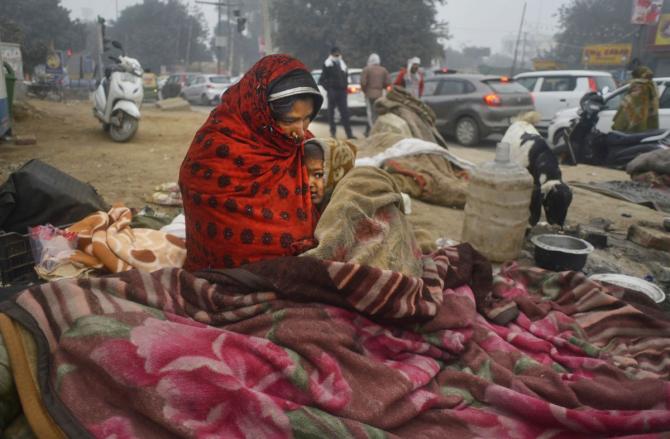 Chandigarh, the joint capital of the two states, recorded a low of 5 degrees Celsius.
In Rajasthan, Fatehpur in Sikar recorded a minimum temperature of 0.7 degrees Celsius, followed by Churu at 1 degree, the Met office said.
In Jammu and Kashmir, Qazigund, the gateway to the Valley, registered a minimum of minus 5.8 degrees Celsius, while Kupwara, a frontier district, recorded a minimum of minus 5.6 degrees.
Srinagar recorded a minimum temperature of minus 5.5 degrees Celsius.
According to a senior India Meteorological Department official, there will be some relief from the cold weather under the influence of a fresh Western Disturbance, which is likely to affect northwest India starting Friday.
In the plains, the Met office declares a cold wave if the minimum temperature dips to four degrees Celsius or when the minimum temperature is 10 degrees or below and is 4.5 notches below the normal.
A severe cold wave is when the minimum temperature dips to two degrees Celsius or the departure from the normal is more than 6.4 degrees.
A cold day is when the minimum temperature is less than or equal to 10 degrees Celsius below the normal and the maximum temperature is at least 4.5 degrees below the normal.
A severe cold day is when the maximum is 6.5 degrees Celsius or more below the normal.