A second train derailment on the suburban rail network in as many days left one person injured and disrupted services on Mumbai's lifeline, causing a great deal of inconvenience to thousands of commuters on Tuesday.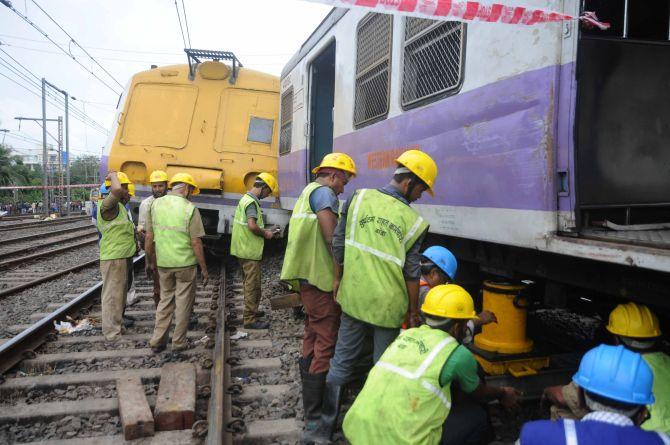 Railway teams begin to work on taking the derailed coaches off the tracks. Photograph: Sahil Salvi
Seven coaches of a local train came off the tracks between Andheri and Vile Parle stations on Western Railway late Tuesday morning. Another local train had derailed on Harbour line section of the Central Railway on Monday evening.
The mishap led to disruption of traffic on the busy route linking Churchgate in South Mumbai to Virar in adjoining Palghar district, said Chief Public Relations Officer, WR, Sharat Chandrayan.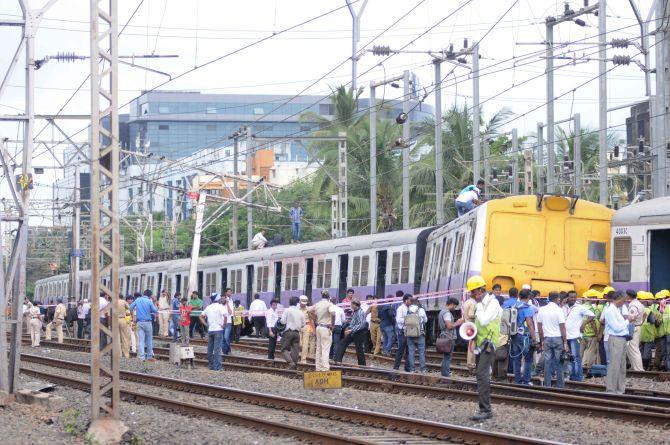 Railway officials and citizens standing near the derailed trains. Photograph: Sahil Salvi
One passenger named Sudhir Swaminathan, 30, suffered injures and was admitted in Cooper Hospital, WR said in a statement.
Chandrayan said the ill-fated train was coming from Borivili to Churchgate and derailed at around 11 am between Andheri and Vile Parle.
A team of engineers and rescue officials was instantly rushed to the spot, the CPRO said, adding a detailed inquiry will be conducted to find the cause of the mishap.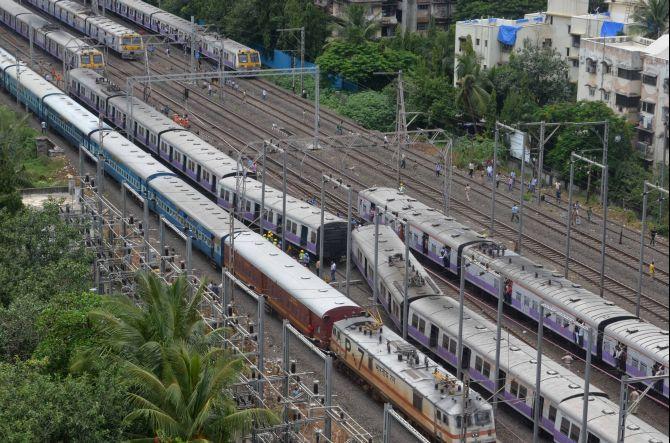 Commuters were harrowed by having to work on taking the derailed coaches off the tracks. Photograph: Sahil Salvi
Divisional Railway Manager of Mumbai Division Shailendra Kumar, who himself supervised the restoration work, said, "By 7.30 pm, we succeeded in restoring the operation on Up fast line, on which the derailed train was running, and Down fast line over which one derailed coach had infringed."
"So far as Up through line is concerned, we have set a target to restore it by 6 on Wednesday morning," said the DRM adding over 100 officers and 500 workers were tasked to restore the line as the earliest.
To minimise hardships caused to the harried train commuters, WR coordinated with civic bus undertaking BEST, which ran 165 extra services till late Monday evening.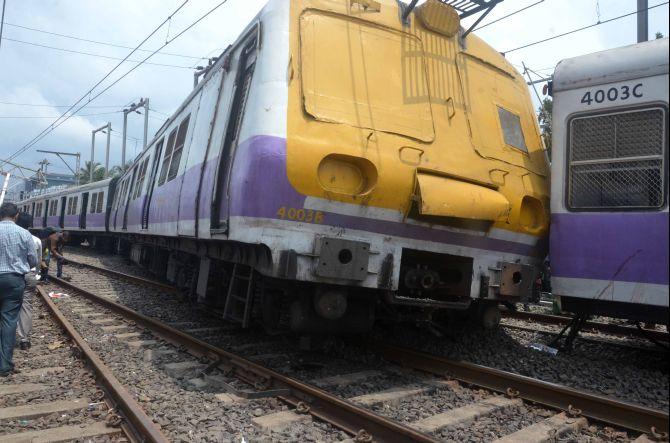 An image of the derailed train as it grazes the rear of another train. Photograph: Sahil Salvi
BEST spokesperson Manoj Varade said, "We ran 165 extra services from Churchgate to Andheri and Santacruz, from Charni Road to Goregaon and Andheri, from Mumbai Central to Andheri and Goregaon, from Bandra to Malad and Kandivili, among other destinations."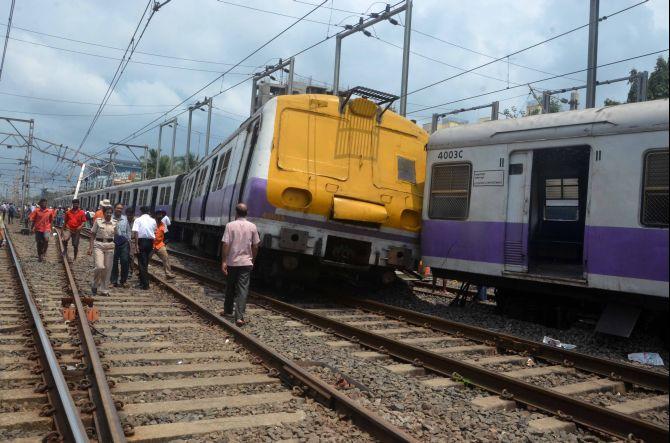 Railway operators at work on the derailed coaches. Photograph: Sahil Salvi
A few long distance trains were terminated at Borivili, from where they were sent in down direction.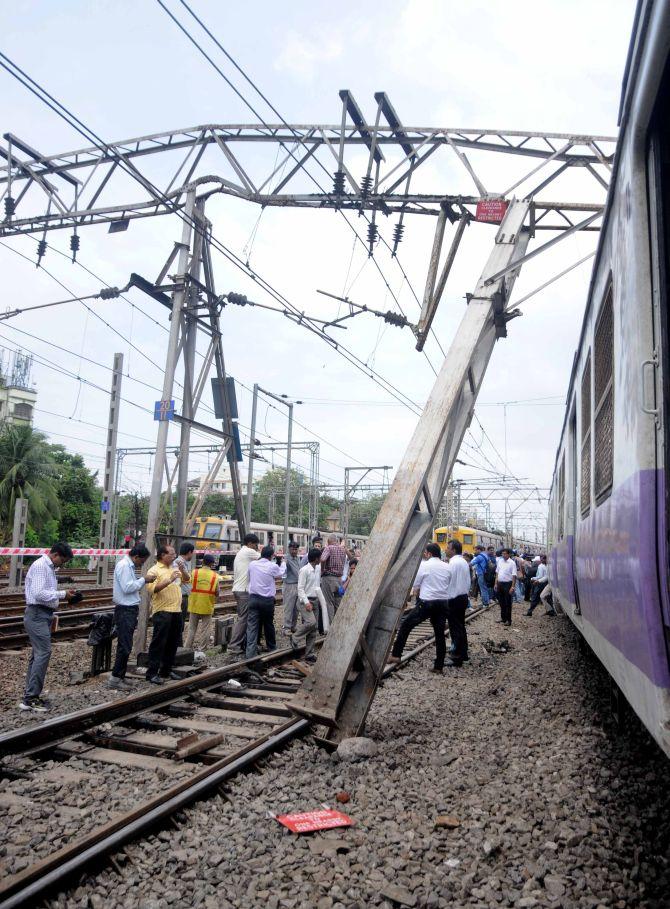 Railway officials standing near a uprooted electrical pole pulling down the overhead wires with it. Photograph: Sahil Salvi
Narrating her ordeal Ankita Garg, a daily commuter, said "it was total chaos at Vile Parle, where I was waiting for a train. There were no trains from Andheri to Churchgate. There were three trains stationed on various tracks and commuters were alighting and walking on tracks. It was quite a chaotic situation."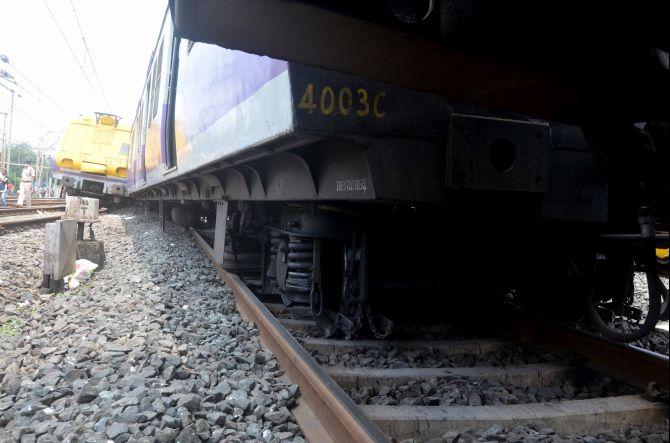 Railway operators at work on the derailed coaches. Photograph: Sahil Salvi
Hundreds of commuters were also stranded at Dadar station.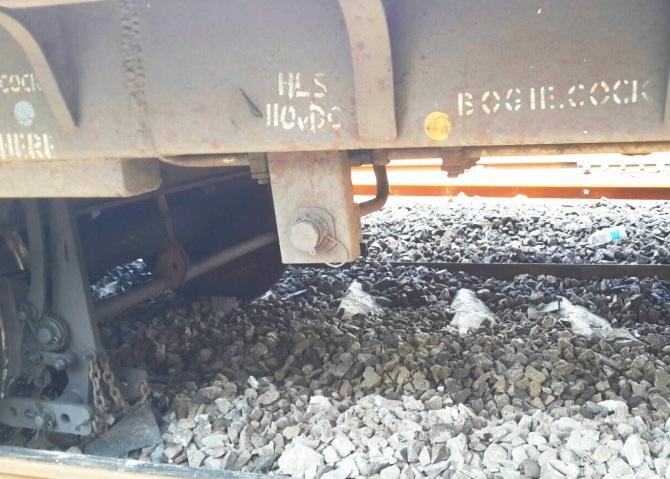 A close view of a derailed coach.