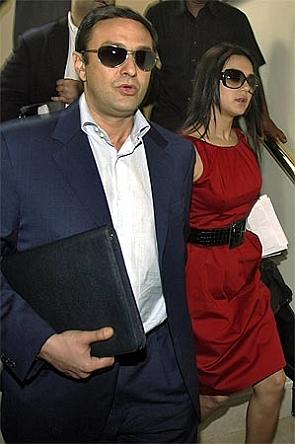 The Mumbai police have provided security at the office of industrialist Nusli Wadia following threat calls from fugitive underworld don Ravi Pujari, police said on Thursday.
A police contingent has been deployed outside Wadia International Centre at Lower Parel since Wednesday. The deployment would be during duty hours alone, sources said, adding that the threat perception would be reviewed before providing personal security to the industrialist.
"Policemen have been deployed outside the Wadias' office. No security has been provided to any individual. We will review the threat perception and then decide if there is a need to provide personal security to anybody," Additional Police Commissioner (Central Region) Madhukar Pandey said.
Nusli Wadia's elder son Ness is embroiled in a bitter feud with his former girlfriend and Bollywood actress Preity Zinta, who has accused the Bombay Dyeing group scion of abuse and molestation during an Indian Premier League match on May 30.
The 39-year-old actress had filed a police complaint against Ness Wadia, 44, on June 12 night alleging he had molested her at Wankhede stadium during an IPL match between Kings XI Punjab and Chennai Super Kings.
Ness and Zinta continue to be co-owners of IPL team Kings XI Punjab despite their break up a few years ago.
Based on her complaint, the Marine Drive police station has registered an FIR and is probing the allegations.
The matter turned murkier when the Wadia group filed a police complaint on Tuesday claiming they had received threatening calls and a text message from underworld don Ravi Pujari warning that their "business will be in trouble" if the actress was harassed.
Two personal secretaries to Nusli Wadia were said to have received five calls and a threatening text message from Pujari on Monday following which an FIR was registered and the case handed over to the anti-extortion cell of the crime branch for probe.

Image: Bollywood actress Preity Zinta with former boyfriend Ness Wadia