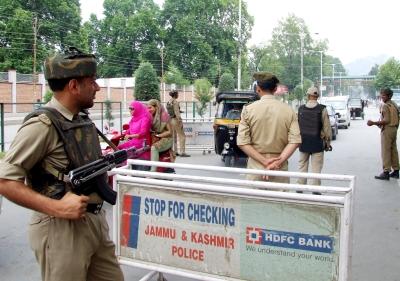 Security has been beefed up across Kashmir ahead of Prime Minister Narendra Modi's maiden visit to the Valley on July 4. Police and paramilitary forces have set up barricades at many places in the summer capital of the state and other major towns for carrying out searches of vehicles, the police said.
Random frisking of cars and motorcycles is being carried out to thwart any subversive plans of the militants, they said. Police and Central Reserve Police Force personnel will be deployed in strength in the city and along the Srinagar-Baramulla-Uri road to ensure that Modi's visit passes off peacefully, a police spokesman said.
The extra security measures have been taken in view of all major separatist outfits calling for a general strike on the occasion of the prime minister's visit, he said adding, normal security drill was being followed for the prime minister's visit.
"We are doing what ought to be done for a visit by the prime minister of the country," the spokesman said. Modi is scheduled to arrive in Kashmir on Friday for his first visit to the Valley as Prime Minister. He will inaugurate the 240-MW Uri-II power project in Baramulla district.
With inputs from PTI.
Image: Security personnel check vehicles ahead of Prime Minister Narendra Modi's visit to Srinagar. Photograph: Umar Ganie