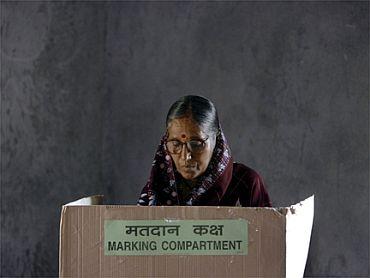 The Election Commission on Tuesday deliberated on holding the assembly polls in Maharashtra, Haryana, Jharkhand and Jammu and Kashmir before or after Dussehra (October 4). Apart from this, the EC is also informally readying itself for the Delhi assembly polls.
The assembly elections in Maharashtra will be most likely held in the second half of October after Dussehra. This will be ascertained after the all-party meeting in Mumbai by the third week of July. It also depends on the positioning of central police forces.
The Maharashtra assembly's term will end on December 7, Haryana assembly's on October 27, Jharkhand assembly's on January 3, 2015 and Jammu and Kashmir assembly on January 19, 2015. The EC is also planning to visit Jharkhand Haryana, Jammu and Kashmir during the first week of August.
EC insiders confirm that the commission will take a final call on holding the Maharashtra assembly elections -- after the revision of electoral rolls and a visit of the full bench of the commission to Mumbai in the third week of July.
The commission's full bench meeting discussed the fate of former Maharashtra chief minister Ashok Chavan's paid news issue, the EC seems to be having mixed opinion, and the deliberations were inconclusive.

Show cause notices to certain political parties over their status since they could not meet with the percentage of votes in the recently-concluded Lok Sabha elections to retain their status as national parties was also discussed at the meeting. The EC would also convene a meeting of the chief electoral officers to take stock of the Lok Sabha polls.