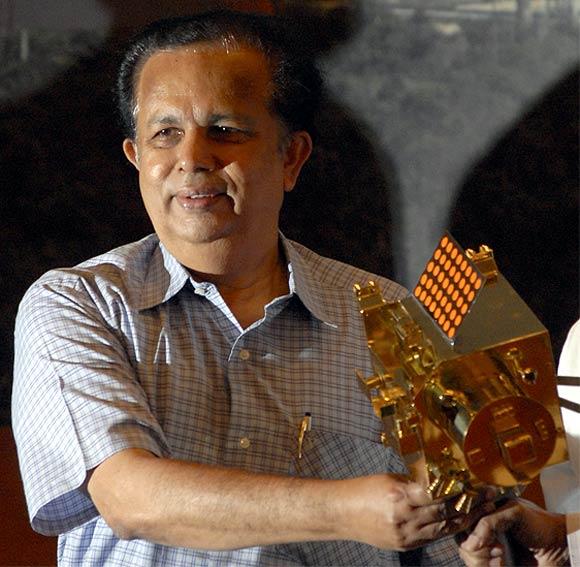 Former ISRO Chairman G Madhavan Nair on Thursday said scientists have been made "scapegoats" in the Antrix-Devas case after he was named in the chargesheet by the Central Bureau of Investigation.
Nair said he and others who have been named as an accused in the chargesheet in connection with the controversial deal have done nothing wrong and blamed the then United Progressive Alliance government for the "hasty" decision to cancel the agreement with Devas Multimedia over which India lost an arbitration case in an international tribunal in Hague recently.
The eminent scientist said this shortly after he along with some scientists and officials were charged by the CBI under Indian Penal Code sections related to criminal conspiracy and cheating besides provisions of Prevention of Corruption Act.
Nair said he failed to understand on what basis the case has been filed.
Defending the decision to lease coveted spectrum of INSAT satellite to Devas Multimedia, Nair said in company to company agreement, the government is not kept in the loop and this practice is still continuing.
He said over a dozen such agreements were signed by Antrix with different companies providing similar services.
"The leasing of transponder capacity has been the primary role of Antrix/DOS and we have established in that time frame more than a dozen such agreements with major players like Tata Sky, Sun Tv etc who hired transponder capacity from us. This hiring of transponder capacity by Devas was on same lines, it was no way different," Nair said.
The former secretary, space department said ISRO never bothered about what business gains any of these companies make out of their using the transponder.
On the CBI chargesheet, Nair said he did not have detailed information about but from what he heard it was related to Antrix-Devas contract, established in 2005, and they were trying to see how Devas made money by selling their shares at such high value and so on.
He said he had made clear to the government as well as to all the agencies that it is not the responsibility of the department of space to look into the affairs of the Devas business.
"It is the company affairs' department and income tax department who has to pursue this. In fact this information was available to these agencies in 2010. Instead of booking Devas in 2010 on the this issue now they have slept over this for a long time," he said.
Nair said they (the government) misinformed about this old agreement and tried to justify the wrongdoing of cancellation of the agreement later.
"So they wanted to find some scapegoat and that was done and four scientists have been blacklisted long back. Now issue apparently which came out was there was no loss to the government. There is no sale of spectrum and if at all government is not kept adequately informed," he said.
Nair said now apparently what has gone wrong is that in 2010 government took a very hasty decision to cancel the agreement with Devas.
"This has been challenged in International Court of law and they have slapped a fine of nearly one billion dollars on the government of India. So this is a really serious issue.
"Instead of pursuing who was responsible for misleading the government on this cancellation of the contract and bringing such a huge fine to the government of India, they are still scratching the surface on how we entered into this agreement," Nair said.
The scientist said when a contract is signed between a company to company the government is not in the picture.
"The government does not come into the know of things. Even today that practice is continuing. Now on that punishment is already given," he said.
Nair said the same issue, based on a complaint which was given by K Radhakrishnan, the then Chairman, a fresh inquiry has been conducted by the CBI and now the agency instead of booking Devas on this issue they are trying to put blame on Antrix and DOS which is totally, which according to him, is totally wrong.
"We have to see what document the CBI has seen and what has been presented and since the matter is in court, we have to get the documents, study and face the issue legally," he said.