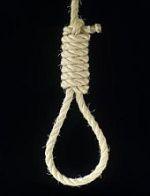 The Supreme Court has stayed the execution of eight death row prisoners, convicted in different murder cases, whose clemency pleas were rejected by President Pranab Mukherjee last week.
Staying the execution of Suresh, Ramji, Gurmeet Singh, Praveen Kumar, Sonia and her husband Sanjeev, Sundar Singh and Jafar Ali for four weeks, a two-judge bench during an urgent hearing held late yesterday evening expressed concern that a situation like the Jammu and Kashmir incident should not arise.
Though they did not refer to the Afzal Guru case, a bench comprising justices P Sathasivam and M Y Eqbal said the intimation of the execution reached the relatives of the person after his hanging and they could not meet the condemned prisoner for one last time before he was hanged.
The communication regarding the rejection of Guru's mercy plea and his subsequent execution had reached his relatives two days after he was hanged on February 9.
The bench, which had its hearing at Justice Sathasivam's residence, said, "There shall be stay of execution of the death sentence in respect of the eight petitioners. Notice to the states concerned returnable in four weeks."
The bench passed the order on the petitions filed by relatives of death row convicts and a civil rights group People's Union for Democratic Rights.
The urgent hearing took place as the petitioners feared they would be executed following the rejection of their mercy petitions by the President.
In its petition, PUDR challenged the rejection of the mercy pleas of the eight convicts contending there has been delay in carrying out their execution, even after it was confirmed by the apex court.
The convicts are lodged in various jails in the country.
While Suresh, Ramji, Gurmeet Singh and Jafar Ali are lodged in prisons in Uttar Pradesh, former Haryana MLA Ralu Ram Punia's daughter Sonia and her husband Sanjeev are imprisoned in Haryana. Praveen is in a Karnataka jail and Sundar Singh is an inmate in a prison in Uttaranchal.
Sonia and Sanjeev were awarded death penalty for killing eight members of her family, including her parents and three children of her brother in 2001.
Gurmeet Singh was convicted of killing 13 of his family members in 1986. Jafar Ali had murdered his wife and five daughters. Suresh and Ramji killed five of their relatives. Praveen and Sundar Singh have been convicted also in murder cases.