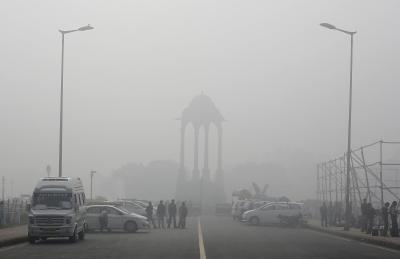 Diesel-run sports utility vehicles and high-end private cars with engine capacity of 2000 cc and above will not be registered in Delhi and National Capital Region till March 31, 2016, the Supreme Court ordered on Wednesday as it unveiled a slew of measures to curb the alarming rise in pollution levels in the national capital.
The court, which also directed 100 per cent hike of the Environment Compensation Charge being levied on light and heavy commercial vehicles entering Delhi, said that its directions were aimed at 'mitigating hardship' of residents of Delhi 'that has earned to it the dubious reputation of being the most polluted city in the world.'
"It is noteworthy that diesel vehicles of 2000 cc and above and SUVs are generally used by more affluent sections of our society and because of the higher engine capacity are more prone to cause higher levels of pollution. A ban on registration of such vehicles will not therefore affect the common man or the average citizen in the city of Delhi," a bench comprising Chief Justice T S Thakur and Justices A K Sikri and R Banumathi said
"We accordingly direct that registration of SUVs and private cars of the capacity of 2000 cc and above using diesel as fuel shall stand banned in the NCR up to 31st March, 2016," the bench said in its interim order and agreed to the contention that diesel vehicles are 'the most polluting' ones contributing to the current state of affairs in Delhi.
It also directed that 'all taxis including those operating under aggregators like Ola and Uber in the NCT of Delhi, plying under city permits shall move to compressed natural gas not later than March 1, 2016'.
The court said that the levy of ECC has resulted in some diversion of commercial vehicles but a very large number of such vehicles, which are not bound for Delhi, still enter by paying the Green cess.
"In the circumstances, we consider it necessary to make it clear that no vehicle which is not bound for Delhi will be allowed to enter from NH-VIII which connects Jaipur to Delhi and NH-I that connects the States of Punjab, Haryana and other northern states to Delhi via Kundli border," it said.
Besides banning entry of vehicles registered prior to 2005, the bench doubled the ECC being levied on light duty vehicles and three-axle vehicles for entering Delhi.
Now, light duty vehicles, carrying goods, will have to pay Rs 1,400, instead of 700 and three-axle vehicles Rs 2,600, instead of 1,300 as ECC to enter Delhi.
"We are further of the view that empty/unloaded vehicles bound for Delhi, can enter Delhi on payment of the ECC earlier stipulated by us at Rs 700 and Rs 1,300 per vehicle depending upon the category to which the vehicle belongs," it said.
"Passenger vehicles, ambulances and vehicles carrying essential commodities like food stuffs and oil tankers for Delhi were exempted from the above charges," the bench clarified.
Vehicles, bound for Delhi, may enter on payment of ECC, it said, asking the state governments and UnionTerritories concerned to 'ensure that vehicles bearing registration numbers of the year 2005 or earlier do not enter Delhi' and evolve a system for implementation of its directions.
It said that the restraint order on commercial vehicles, which are not Delhi-bound, are limited two entry points, NH-VIII and NH-I, as the figures suggest that the largest number of vehicles enter from these two points.
The court, hearing various pleas including the 1984 PIL filed by environmentalist M C Mehta, asked the governments of Uttar Pradesh, Haryana and Rajasthan to take steps 'to ensure that commercial traffic for destinations other than Delhi use alternative routes and to ensure that in the course of implementation of the said direction no traffic jams and other inconvenience is caused to the public'.
It also asked city government to 'issue advertisements to inform commercial traffic of the bypass routes and the imposition of the ECC imposed by this court for entry of the vehicles into Delhi'.
The court directed Delhi government to take immediate steps for repair of pavements and procure requisite 'vacuum cleaning vehicles' for use on Delhi roads expeditiously but not later than April 1, next year.
The bench agreed to the contention that construction activities in Delhi and NCR contribute in the rise of pollution level.
"We see no reason to decline a direction to that effect. Central Pollution Control Board norms regarding prevention of pollution by putting curtains and other devices at construction sites must be strictly enforced by the enforcement agencies concerned. We direct accordingly," it said.
The apex court also directed the Delhi government and the local bodies including Municipal Corporation of Delhi, New Delhi Municipal Council and others to take steps to ensure that no part of municipal waste is burnt.
It asked them to ensure that 'proper arrangements are made for disposal of such waste in a scientific way without causing any hazard to environment'.
Making its directions binding and overriding, it said, "We direct that steps that we have indicated herein above shall be taken by all concerned in the right earnest notwithstanding any order to the contrary passed by any court or authority or Tribunal whatsoever."